Hiya Cru,
The evening began innocently enough with 5 cases of this wine on-hand. There were about 8-10 stragglers in our store for a Friday tasting and the bottles we had opened were no more. So I grabbed a bottle of this wine, having just arrived in the store, as a nightcap of sorts.
It disappeared in 10 minutes, and within a week, so did those 5 cases. It was Keyser Söze in The Usual Suspects: "And like that, he was gone..."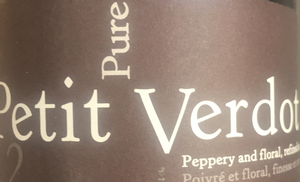 But I swear, this wasn't my fault. It was Wenny and Gabriel Tari's fault. Back in March Wenny suggested that I give their Petit Verdot a try. They had just shown it at a recent degustation in Montpellier and the reviews were positive. So, I went for it. Five cases. Topped off a palette. No harm, no foul.
But now, folks are calling back for it, and I'm catching flak. Those 5 cases went home and got opened straight away, served up with some sort of gastronomic this and that, I'm guessing. I called Wenny to tell her this and she giggled. She knew I'd be calling for more and had held some back of the judicious 2000 bottles they produced.
And here they come...
Chateau de Brau PURE Petit Verdot 2014, $14 (regularly at $19)
I've spent a lot of word count on Brau over the last two years. You all know the story by now, but if you need a reminder, click the link above to play it again, Sam. But otherwise, here's my two cents on this wine:
Petit Verdot is one of the lesser known varieties of Bordeaux, taking a backseat to the more sexy Cabernets, Merlot, and Malbec. It's often used as a color enhancer, with black skins yielding a deep purple color. I've asked around, and hardly anyone can think of one bottled on its own, without any help. And this one doesn't need help. A dark, brambly fruit salad leaps from the glass--plums, blackberries, currants--and leads to a rich, succulent mouthful of red wine. A very light touch of oak lends a faint vanillan smokiness.
Or in other words, according to Cru faithful Norm, "That stuff is really, really good."
Ready, set, go. I've got 15 more cases arriving in mid-August, and you'll be happy to have this baby around for the fall and winter. And at just $14, a pretty darn good value proposition. To order, please simply reply to this email with your request: "Three", "Sixer", "Case"--you name it.
Cheers!
Dan
PS--I have just a few more offers coming between this one and July 10th, all arriving by about mid-August. Then a few weeks off to re-charge the batteries. You'll hear from me again, on the ground in Europe, around the week of July 23rd.