Hiya,
I have two questions for you today:
Do you like French, Italian, and Spanish wines?

Would you like to pay just $10-11 for bottles that typically cost $14-17?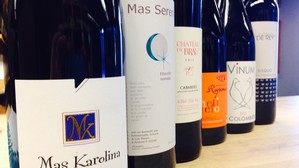 If you answered yes, I'd like to introduce you to a quarterly wine shipment we put together called "6 for $66".
What's the deal? Well, I'm glad you asked.
We began this club a few years back to show wine lovers that there are really great wines in the $10'ish price point that actually are meaningful AND delicious. Then, last year, we got our Federal Importer's license and began sourcing all those wines ourselves--purchasing them directly from small wineries all over Europe.
Most of the wines we choose never touch another layer in the distribution market. They go from their door, to ours, to yours. And that means we can be really, really price competitve on what we offer.
Our final quarterly offering of 2016 will arrive next week and I'd love to have you give it a shot. Here's how it works:
You sign up for 6 for $66 on our website, or just reply to this email and say "I'm in." We'll handle the rest.

When you reply, please choose to receive either a) just a 6-pack, or b) a Double Down, in which you can have 6 FURTHER bottles for a grand total of $125 for the case. That's 12 different wines at under $10.50/bottle. Good stuff!
Four times a year we'll prompt you about a week or so before the shipment arrives to make your choice. If you want to opt out, no hard feelings. I'm confident you'll like what you see. Plus, if you DO like what you see you'll be able to re-order your favorites at 20% off the retail price. Nice!
For this quarter and the next one in January, the offering will be all red wines. Upcoming, will be some Italians, and the rest a virtual Tour de France. A little of this and a little of that.
That's it. I hope you'll join us four times a year for a tasty 6-pack or mixed case of yummy wines.
Cheers!
Jane