Ciao Amici,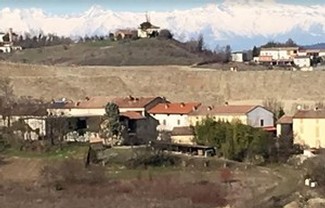 A few weeks ago we enjoyed lunch with Giovanna Rava and his lovely family in their home in Cella Monte. This is the lesser known Piedmont, the Monferrato hills, (yep, those are the snow-covered Alps in the background) with no Barbaresco or Barolo in sight. And Giovanni was rambunctious. He had been in the vineyard all morning cutting and tying the vines. And he was ready to eat.
The lunch here is a real affair. Elena Rava can cook, man. One sits down at noon and stands up, or rolls away from the table actually, at 4. And just when you think the meal is over, Elena brings pasta, but not just any pasta. This is agnolotti country. And no meal is complete without it. (they're like little stuffed pasta squares)
This fact is so true that Giovanni launched into a story about an uncle of his that once refused to go to a wedding, his own daughter's, because she suggested that it might not be practical to serve agnolotti at the meal. Can you believe that! We all shook our heads at the horror as we stuffed extra servings of Elena's homemade agnolotti alle noce (stuffed with a cheesy/walnut mixture) into our happy gullets.
The daughter eventually capitulated, and the uncle went to the wedding.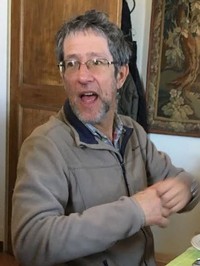 Over that meal, and Giovanni's spirited stories, we also drank some wine. And that's why I'm here talking to you today, so you too can make a big pasta dinner, and throw down some of Giovanni's incredible, and little known wines. Here are three to contemplate:
Just $45
Freisa Monfiorenza 2015--Freisa is one of the minor, but important grapes of the Piedmont. In fact, it's a way of spotting the locals in the restaurants and trattorias of the area. They're the ones drinking wines like Freisa and Grignolino while tourists toil away with $100+ bottles of Barbaresco and Barolo. Look for a lively, light, fruit-forward Italian red here with loads of scrumptiousness. (regular $16)
Barbera Giuanin 2015--Giovanni's Barbera is the cream of the crop, a wonderful example made only in stainless steel tanks. The vintage yielded dark color, and a rich, hearty wine, with very little tannin, and a sort of rocky freshness. This is why Barbera gets a good name. (regular $18)
Grignolino Poggeto 2016--Grignolino has lots of seeds, and as such very little juice. Also the skins are very thin but quite tough. Yet the resulting wine is anything but an ugly picture. I liken it to Pinot Noir on steroids--a lighter color, and a big perfume, and then in the mouth a nice chewy texture. This is a grape variety I bet few of you know but will happily return to after tasting this one. (regular $17)
Want a 3-pack or more? Please reply here with your request: "three", "sixer"--you call it. Six packs earn an additional 5% off, Mixed cases at 10% further off. The wines are IN, and ready to go. Or, click the link or photos above to read more about La Casaccia (a local term that means: "crappy old house") and order on-line.
A presto!
Dan
PS--The store will be closed for a Spring Break of sorts during the week of March 19th. Another reminder next week. See us soon!
PSS--Thanks Norm B. for the great photos. And please, don't ever again ask for a small portion of Elena's agnolotti....