Happy Spring Break!
I bring to you today, an experiment. Or, as Ana Fernandez Bengoa calls it, an experiencia. This will surely be the most unique DEUCE I'll offer all year--a little bit learning, a little bit tasting, and a whole lot of fun.

Each year Ana and her husband Juan Garcia do something playful with one of their wines at Bodegas Paco Garcia. In 2014 it was to explore the use of oak barrles on their Rioja Crianza. The results are pretty great.
Inside the DO Rioja it is a requirement to age Crianza, Reserva, or Gran Reserva in oak barrels of 225 liters, and for a specific length of time. The selection, source, and toast level of the oak is up to the winery and there are many variations abound. The common refrain however boils down to ONE MAJOR CHOICE--do we use French oak, or do we use American oak?
So in 2014 Ana and Juan dedicated their best Tempranillo, from a vineyard planted in 1943 by Juan's grandfather called La Dehesa, a gravelly rocky plot planted at nearly 1500 ft of elevation that looks sort of like Chateauneuf-du-Pape to the naked eye. Following fermentation they dedicated half the wine to American barrels, and half into French, for aging and development.
The result? Two totally different wines and a look into the impact of oak on the tasting senses. Structure and body? Sure, on one hand. Elegance and finesse? Yep, it's in there too!
So which one is/was better? Aaaah, that's where you come in Cru Faithful. The choice is yours. Juan and Ana decided to wrap these up as a two-bottle package, in a really really cool special box, and encourage you to gather some friends and try them BLIND. You'll only know which is which after peeling back a surface label on the bottle to reveal it's barrel origin.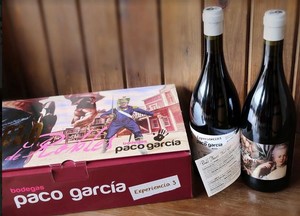 A pretty unique idea. A learning experience. And pretty darn fun.
I tried them. And I got the answer right. But then again, I had a 50/50 shot. But here was the bottom line: A winery that uses terrific raw material--their BEST GRAPES--will often make a great wine, regardless of winemaking choices like oak origin. But at the end of the day I had a clear preference. I wonder what yours will be?
Paco Garcia Rioja Crianza Duelo 2014 (a Duel of Oaks), $39
This is a 2-pack (DEUCE) offer but you can order as many as you'd like. Juan and Ana only made two barrels of each for a total of just 600 special boxes. We get 60 of them! Want one or two or three to throw a little wine tasting party of your own? Let her rip! Simply reply to this email with your request or click the link or photos to read more and order online.
Remember, this is Paco Garcia's top wine--It's essentially their Reserva that normally sells for about $35/bottle. Here, as part of a Spanish Wine Duel, just $19.50
I expect the wines around June 1st. This is the first offer of about 6-7 from Spain over the next few months. Stay tuned for more to come...
Cheers!
Dan