(SPOILER ALERT: THIS LONG TALE ENDS WITH OUR 3 FAVORITE PRIORAT)
"Hola muchachos," says Xavi Barrachina to his two employees. "Que pasa?"
Pepe and Morena have perked up the moment Xavi walked in, just like he does every morning around 8 am. They had just been lazing around the farm not doing much, but now with Xavi on the scene, they were a little more attentive and ready to get to work. If they had been caught and embarrassed to have been hanging around doing nothing they didn't really show it.
"Que Pasa" he continues to say as he starts walking around, lowering his voice to a whisper, "que pasa amigos", and then starts explaining to them what they will do today. They listen attentively, with an almost dedicated admiration. Xavi has entranced them. They are hypnotized with their jefe, their boss.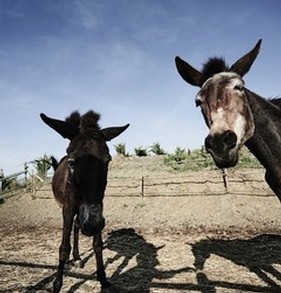 Then Xavi looks back at me, still just standing there, dumbfounded, and says to me, "there is no more loyal animal in the world than a mule. And these two have the best life of them all..."
He calls Morena an "old woman" and the best worker he's ever had, purchased from the famous Alvaro Palacios about 10 years ago. She's a semi-retired thirtysomething now and spends her days keeping the more energetic and teenage Pepe in line. She eats first, then he goes. This is how it is in Catalonia.
Pepe and Morena work two of the finest, most picturesque, and most extreme vineyards that I've ever seen, in the heart of Priorat, near the hilltop village of Gratallops. They are in charge of carefully cultivating the soil and vines of century-old Carignane and Grenache planted on an inhospitable two hectares of schiste and llicorella. Their work during the course of the year eventually yields three of the best bottles of Priorat on the market today.
They are the heart and soul of Saó del Coster.
Look, I know that you know that I really love what I do. But some days are better than others, and my evening, and subsequent morning with Xavi, first tasting wines, then walking out to his vineyards to visit these wonderful creatures, pretty much tops my list of great memories as a wine importer. I've got a lot to talk with you about from a short trip last week to visit our Catalan winemakers, but today I want to focus on Xavi, Morena, and Pepe's activities. Because I think they are beyond compare.
Over the last 20 years or so Priorat has been modernized, with many vineyards carved into steep slopes on machine-graded terraces. Xavi thinks this has been a crucial mistake because it moves too much topsoil around. He prefers to work his plots on their natural terrain--the same slope and grade that has been there forever. Hence, the need for mules, much to the great disappointment of the local John Deere supplier.

Farming here yields only a small quantity of extremely concentrated, succulent, and powerful wines. To call yields stingy would be underselling the reality. In quality-comparable places like Chateauneuf-du-Pape, St. Emilion, or La Rioja, a 4-hectare vineyard might yield about 150 hectolitres of juice, or maybe 20000 bottles.
But here, on the agricultural moon? Just one quarter, muchachos. Only 5-6000 bottles per year. It's nuts.
So the purpose of today's missive is to (re)introduce you to Saó del Coster's best wines. First among them is Terram, which comes from Pepe and Morena's home vineyard, called Planassos (their stables are here), and is an overall picture of their work on this plot. Old vine Grenache and Carignane are blended with a small percentage of Syrah and Cabernet Sauvignon to make an ample, studly wine, rich with fruit and licorice, and begging for a grilled ribeye. I quietly drank a partial bottle in the town square with some patates bravas, a pernil de jamon, and a few creamy croquetes. It all worked.
Saó del Coster Priorat Terram 2015, regular at $52.
On pre-arrival at $35.
Only 60 bottles available of 4000 produced. Limit one 6-pack. Drink now-2040.
NB--Don't spew your coffee as you continue reading. One of 2017's goals was to offer you all something truly special before the end of the year, and these are it. We have no desire to become a cult retailer, and will always continue bringing you the best value-oriented stuff I can find. But these next two wines are singular exceptions, and would be worth every penny of a splurge in my opinion.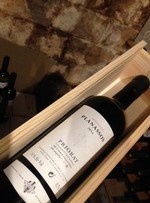 Here goes...
The same vineyard also provides the fruit for another wine of just 800 bottles or so each year. I'm actually at a loss for words on how to describe this wine, such is its perfection and complexity. Sao del Coster Priorat Planassos 2014, on pre-arrival at $125, comes from Carignane planted in 1900 and essentially yields about 1 bottle per plant. It is the complete essence of Priorat--black, dense with ripeness, and sporting fine yet chewy tannins. There are 12 bottles available, each one numbered, and packaged in a nice single wooden box. Wow is the only word I can come up with that I feel comfortable publishing.
Yet...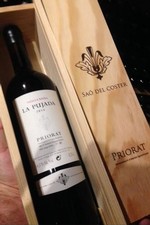 Xavi's top wine comes from a separate steep, old vineyard with just about 1000 total Carignane vines on it that yield about 850 bottles each year. The resulting wine, Sao del Coster Priorat La Pujada 2014, on pre-arrival at $150, is astonishingly wonderful. It is still Priorat but I find it finer, prettier and more elegant than Planassos. Again, just 12 bottles available, and each one numbered and packaged in a handsome single wooden box.
I know these wines arent' going to be everybody's favorite kitty toy, but if you think you need a really magic bottle or two around in the coming year to celebrate with or give as a really special gift, these are it.
To order please reply here with your request. I don't have a web page ready on these so email replies only on this one. I expect all three wines to arrive by early December. I hope your curiosity is piqued!
fuerte abrazos,
Dan