TWO NEW ITALIAN WINERIES. A BARBERA 6-PACK.
PRE-ARRIVAL OFFER
Ciao Cru,
I bid arrivederci to Italy this morning and look forward to getting home on Thursday. In the meantime I thought I'd share how a 3-day jaunt through the Piedmont went.
Not well. Then, very, very well.
Such is the nature of Italian wine for me. Lots of miss. Very few hits. But then when the hits come, they come in bunches. The focus of this mini-tour was to find some Barbera. The grape variety has taken on a mind of its own in our store, but I really wanted to find some special stuff, that wasn't available in the US yet, and slap a Road Cru label on it. Mission accomplished.
The week started on a low note, three low notes really, visiting wineries that just didn't pass the test. In what way? Poor vineyards, dirty wineries (in one case smelling like cat pee), and uncommitted winemakers. Ah well, --it happens, right?
Then, back-to-back, I met two winemakers, one a newbie to grapegrowing and winemaking, and the other with a 200 year-old property. What do they have in common? Utterly delicious Barbera that will just sing on your table this coming spring. No joke...I'm pretty excited about these finds (and a third coming down the road). I hope my words can convey my enthusiasm for these two winemakers, because...
This is a Barbera Master Class.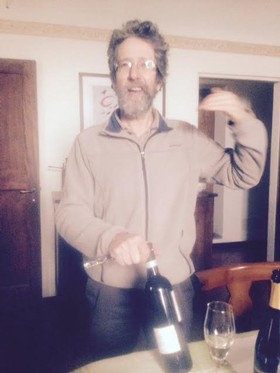 Giovanni Rava greeted me with a wide smile, buried under his scraggly beard, and pumped my hand vigorously. His English was pretty good, but he didn't think so, and we eventually lapsed into French. Giovanni and his wife are agronomists, having met in Turin during University, and eventually taking over her family's home and vineyard near Casale Monferrato. Their place, all of it--cellar, vineyards, house-- is simply fantastic.
And their wines...spot on. The visit began at 10am and at 3:30 we still remained at the dining table, satiated with lunch, and lots of open (and empty) bottles on the table. I thought Giovanni's Barbera Montferrato Giuanin 2015 stole the show--a wine I just couldn't put down, especially with the Rava family Agnolotti recipe!
This is fruit-forward Barbera, yet sneaky complex, a wine that starts with a big lift and continues to unload fruit layer after fruit layer on the palate. I really loved the almost chocolate-y mouthfeel and then the minerally refreshing-ness. I think you could drink this one clear through the summer.
Giovanni made me late for my next meeting, but once I arrived, and told Savio Dominici where I was, he started gesticulating wildly, and kissed his own forefingers, "Aaaah! Giovanni!! His wines are fantastico!"
A good sign.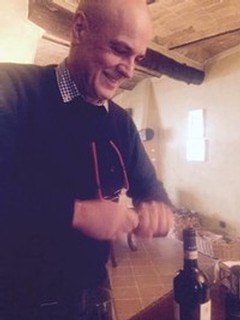 But I think Savio might be selling himself short. His own winery, called Alemat (a Piemontese slang for "You're CRAZY!"), is pretty darn impressive in its own right. Only 10 years into his wine career, Savio is turning out an exceptional product. His Barbera d'Asti 'Praie' 2015 was a powerful and dark wine, filled with richness and structure. But, it also has a silky, fine tannin component that makes it at once complex, but yet again, thoroughly quaffable.
Savio checked out of a career in heavy industry (pipe fittings) and began his small winery near Asti with a head of steam and scientific bent. His winery is simple, clean, and magnificent. On the ground floor is an infernot, a sort of hollowed out cave that are famous in the area. It was excavated in the 1850's and used for wine storage. Lots of farmhouses have them, and they are valued now as Unesco heritage sites. People come from all around to tour these by bicycle. (M.R.--you should check this out)
Savio's infernot is home to a salamander named Sally. I didn't spot her, but she hides for most of the winter. Kind of like Alemat has been hiding from the general public. But not anymore!
I'm all charged up. These are two really nice Italian wines, wonderful examples of country Barbera, youthful and complex, and ready to drink. What do you want them cost? $25/bottle? $20? How about regular prices at $18? Yes.
But for you?
A six-pack for just $75
Three Bottles each, for just $12.50/bottle
That seems reasonably unreasonable to me. But, why not? It's a great way to introduce a couple of fine winemakers to your, and our, Italian wine stable. I think (hope) you'll love them.
I expect these wines in about 60 days--let's say the first week or so of May. To order please reply to this email with your request "Sixer", "2x Sixer"--whatever. (Sorry, I couldn't get a web page ready for this one...Email replies only this time.)
See you in Portland again soon...
Caro e saluti!
Dan