Carolina BBQ. Pinot Noir Young & Old.
Live Music. Two Tarts Deserts.
YOU'RE INVITED!
Happy Saturday!
My good friend Harry, along with my very best friend Mrs. Cru, recently got their heads together and planned out a fantastic little shindig. It happens in just two weeks time and we'd love it if you could come. Here's the skinny: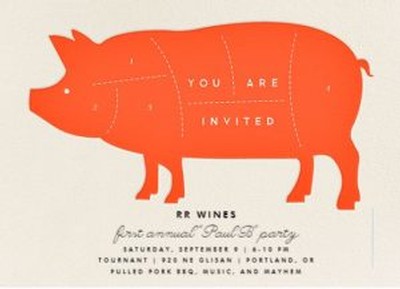 When I first arrived in Oregon, back in 2000, I worked for a Carolina guy named Harry Peterson-Nedry at his winery called Chehalem. A few years later, along wtih his daughter Wynne, he cooked up an idea for a second winery that would be called RR (short for Ribbon Ridge). Over the next dozen years he did a pretty neat thing. He bottled a small batch of RR Pinot Noir every year, but never really sold too much of it.
And today, with 13 vintages in the bottle, we have ourselves a pretty incredible thing on our hands--the ability to taste a "retro-perspective" of Harry and Wynne's delicious wines. It's a true "look back" in time and really sensational for fans of aged Pinot Noir.
But...Harry's a country boy at heart, and stomach. So when we helped him cook up an idea for a "1st annual" party--we didn't think about a 15 course foam-infused food orgy. Instead, we were thinking a little more "down home", you know y'all?
Saturday September 9, 2017, 6pm
Tournant PDX
$100 per person all inclusive
(In other words, a Burgundian Paulée gone awry)
Would you please join us for this lighthearted riff on a traditional Burgundian harvest event, featuring North Carolina pulled pork BBQ, Bluegrass music, and a brown-bag, fool-your-neighbor wine tasting? This will definitely not be your average, stuffy wine dinner.
*Guests at a traditional Burgundian "Paulée" (Pawl-Ay) bring their best bottle of Burgundy. Being that this dinner is a far cry from any such tradition, those attending the "Paul B" are encouraged to bring a "sneaky good" bottle of wine that sets you back $15 or less. We'll brown bag them, and let you determine the winner. (Yes, there will be a prize.)
There will also be plenty of RR wine for you to enjoy, including the beautiful new 2015 Pinot Noir as well some of Harry and Wynne's favorites from among the last decade or so. In other words--Library Wines!
Seats are limited. Just 40 spots available. To grab reservations please click the link above to purchase yours on the RR website, or just reply to this email with your number of requested seats and I'll get it done for you using the credit card we have on file for you at CorksCru.
As an added bonus, Mrs. Cru, the artist formerly known as Mrs. Two Tarts, will be on hand for this one. AND, she's got desert covered--a Lemon Atlantic Beach Pie. Oooooh...pie.
We hope to see you there!
Cheers,
Dan
ps--Tournant PDX is located at:
920 NE Glisan Street
Portland, OR 97232