Hiya Cru,
Those of you that have been buying from us for years know this is our favorite kind of wine, especially during the summer (over 100 again forthcoming?).
Does that mean we don't like wines that are more "serious" during those months? Of course not. But what we do like is to have a nice stash of simply delicious stuff to open at anytime--when friends drop by, to drink while barbecuing, or to take up to the park to have with a baguette and some cheese. Oh, and to drink cool, or even cold too, to get nice and refreshed!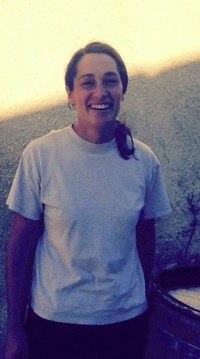 And we really like those wines to cost around ten to twelve bucks. Who wouldn't?
Despite her location right on the main road next to a traffic circle near Vaison-la-Romaine, I feel like Domaine du Tave is a hidden gem. Audrey Latard works alone, farming just 7 hectares, and making wine in an old farm building.
The wine comes from the northern end of the southern Rhône and it's a slurpbable summer white--a wonderful and lip-smacking wine that reminds me of sunny Provence.
Every year I like stopping by her winery in the dead of winter to taste this, her only white wine, directly from tank. Audrey's Blanc du Tave nearly runs clear and smells like a citrus stand at a Florida Farmer's Market. The unusual grape Muscat Petit Grains is single ingredient and is made bone dry (yes, really truly bone dry). It's low alcohol too, topping out at 12%.
My mouth is watering just thinking about this wine.
Audrey made the equivalent of just 2000 bottles (!) and we could have just stood there and drank it all right from the tank. But we thought it would be prudent to have it bottled and shipped instead.
So we snagged about a quarter of it and starting tomorrow the wine will be on the floor and ready to go!
Domaine du Tave 'Blanc du Tave' 2017
$12/bottle
$11/bottle on 6-packs
$10/bottle on solid cases
To order, please simply reply here with your request (6pack, solid case, whatever), or click the link or photo above to read more and order online. No limits, first come, first served. I'll confirm your order quickly and the wine will be ready to pickup starting Friday when we open at 11am.
If there's any left, we'll have this wine and a few others open for tasting this weekend. Come and get 'em!
Cheers,
Dan