Ciao Cru!
I'm guessing this will be among our most popular offers of the year. The reasons will be obvious.
It's Italian

It's Tuscan

It's Sangiovese

It's Chianti

It's a Deal
When I began in this business nearly 25 years ago, I went to visit a dozen or so Chianti wineries with a friend. The smartest thing we did was go directly to Germany afterwards to drink high-acid Riesling and clean our wrecked palates. Such was the almost sad state of Chianti winemaking. It seemed everything we tried was over-tannic, leathery, dirty, and seemingly fermented in old whiskey barrels. I couldn't understand why a winery would go to the trouble of growing grapes only see their freshness and fruitiness disappear into a glass of "wet saddle surrounded by notes of pine bark mulch and old coffee grounds."
So naturally, with my enormous sample size in hand, I vowed to simply hate Chianti. Forever.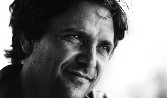 Then I met Aljoscha "Joschi" Goldschmidt. And I changed my mind.
About a year ago I contacted Joschi after way too long and told him what I was up to with Road Cru. He invited me to the winery for a day, and I happily complied. His farm is a fantastic place. Joschi's family purchased the property in 1969 after 700 years in the same family.
Joschi moved here from Switzerland as a boy in the early 70s and knows the farm like the back of his hand. His near perfect English and easygoing, talkative way, make visits here always memorable. When I saw him I reminded him that I hated Chianti. He remembered my soapbox rant and quickly replied, "but not here..."
But why not here? I guess I'd chalk it up to modern, scientific, clean winemaking. His vineyards are ideal, surrounded by a polyculture of trees, olives, scrub, and other crops. No neighbors and no "industrial" farming techniques. The fruit he brings into the winery is gorgeous.
Once there, fermentations are done with strict temperature control, in stainless steel tanks, and hyper-clean. It's a hospital disguised as a winery. And such rigor makes all the difference.
Sangiovese can be fickle. Skins can be thick and yield wines that are bitter and tannic. Joschi's wines are structured, but with great balance, and preserving finesse. They don't make the taster feel like they have sandpaper in their mouth.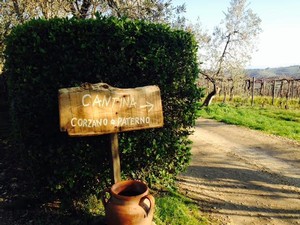 Joschi's Corzano e Paterno farm in the hills east of Siena is way more than just a winemaking operation. Among vineyards he also farms olive trees and raises Sardinian milk sheep for their onsite cheese operation. In fact, I think wine comes in 3rd here. Of 140 hectares only 13 are now planted to vines. It's one of my favorite visits in all of Italy--peaceful, beautiful, and filled with good things to eat and drink! I'd recommend a visit here anytime. Just say the word and I'll make it happen! (they have beautiful agriturisimo accommodations)
Corzano e Paterno Chianti 2013, $19
The regular price on this wine is already low and worth paying without your pre-arrival discount. But since that's the way we do things here, your price is:
Just $14.00
or better,
just $13.00 on orders of 6 or more bottles
I've been pretty dang excited about the price/quality ratio that we've been able to provide through this system, but this one takes the biscotti. Don't hesitate to grab a 6-pack or solid case of this beauty. I expect the wine during mid-March. To order yours please simply reply to this email with your request or click the link or photo above to read more and order online.
Caro Saluti!
Dan