At home, Dan is a kid at heart. His business owner persona and all its gravity (and his shoes) get dropped at the door, in a heap, like some 13-year-old coming home from a long summer day of ramming around with good friends. He shakes off the dust, looks for a snack, and settles in.
Cue the Dad jokes. Bathroom jokes. Bad puns. Our teenagers roll their eyes, but I know they are secretly delighted, as am I. It's fun living with Dan. Chronologically 50, Dan's real heart and soul is that of a 13-year-old boy - full of excitement and energy, and hopeful of all that lies ahead.
Wondering what the heck any of this has to do with wine?
Well then. The only time Dan ever gets serious is when he crosses the threshold of a winery. It's rather spooky to observe, truth be told. From the moment he arrives, Dan begins to silently assess every atom and every attitude. It's palpable (and a bit disconcerting, if you are his wife.)
Is the winery clean? Dan is a stickler for clean wineries - that's why he never buys wines that reek of brettanomyces or volatile acidity. Clean wineries make fruit-forward, delicious wines. And while a chicken wandering near the barrels might be "quaint," it's not a sign of a winemaker who cares about cleanliness. And that mold growing up there in the corner? No way.
How about attitude? Do the winemakers seem enthused about what they do? Are their opinions on winemaking rooted in science? Do their vines look well-tended? How do they treat their employees and family? Will they openly discuss things like disease pressure and weather-related issues?
There is an ocean of "good" wine out there. But there are finer points that differentiate good from excellent. And to get there, you have to pay close attention to everything around you. And while Dan might have a severe case of refrigerator blindness at home, he has a PhD in OCD when it comes to wine.
Enter the Südtirol - where Swiss precision meets Italian warmth
Making your way up the steep hillsides to Maso Thaler is a head-scratching experience. As you climb higher and higher into the Dolomites, you start wondering where the heck you are, and why anyone would try to grow grapes up here. The view is breathtaking, no surprise. But from a practical, winemaking standpoint, this seems masochistic.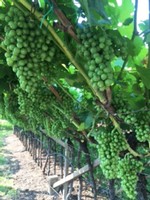 Just a few miles down valley, you'll encounter the tank farms of Mezzacorona and Rotari, where yields look something like this photo on the left, where we counted 25 clusters on one vine. ONE vine. These grapes will find their way into one of several tank farms in the region, and eventually to every mini mart in the U.S. Totally uninteresting wine.
Back at Maso Thaler, brothers Philippo and Francesco Motta struggle to keep fruit on the vine. At an altitude of nearly 700 meters (2300 feet,) they grow Manzoni Bianco, Chardonnay, Sauvignon Blanc, and a little Pinot Noir. The wines belie their position - they are elegant and fragrant, reflecting the breathtaking beauty of the surrounding mountains.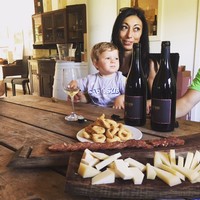 The Motta brothers have something to crow about, but this is not their way. Soft-spoken and shy, centered on family and community, they make wines of which they can feel proud. The tiny little corner of Italy where they reside has a heavy Swiss and German influence. The winery is eat-your-dinner-off-the-floor clean, and perfectly ordered.
Last week, we re-tasted the unique Manzoni Bianco 2016 (a hybrid of Riesling and Pinot Blanc) and the thoroughly delicious and almost-Burgundian Chardonnay 2015. I loved both wines as much as any whites Dan has imported in the last 15 years. Total wow.
So, we've got a DEUCE in store for you--very simple, a bottle of each for a total of $39.50. You can reply to this email with your request, or click the link to read more and order on-line. If you you reply directly, Dan will receive the email (hint, hint). The wines are in the store and ready to roll, like, today.
Come and get 'em!
Warmly
Elizabeth