This one's a throwback and it has your name written all over it. If you're going to bite on one more offer all year, this one should be it.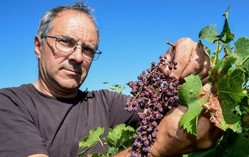 By "throwback" I mean it literally. Joel Tauzin arrived at his family's estate in 1989. All the vines had been dead for 100 years (from phyloxerra), and no one had lived there since the 1920's. Yet all that time the property had remained in his family, partially burned down, trees growing up through one buildings, and no glory left.
Except for the address.
You see, there had been glory in Domaine de Merlet's history. Situated on Bordeaux's left bank in the area of Pessac-Leognan (formerly called Graves), Merlet is a 4-hectare oasis with neighbors such as Haut-Bailly, Fieuzal, La Louviere, and Smith Haut Lafitte. Those ARE the glory addresses in Pessac-Leognan today, commanding prices that are 2x-5x of this wine.
So, from 1989 til about 2005 Joel and his two siblings rehabilitated the buildings of Merlet, replanted the vineyard and about a decade ago began bottling a small amount of wine each year--just a dozen barrels or so--and continues in this small way today.
Merlet is predominantly Cabernet Sauvignon, as much of the great wines of Pessac are. When I first tasted it with my new friend in Bordeaux (Paul, the barrel guy), our eyes bulged from our heads. This was the kind of Bordeaux I've been seeking--dark, almost opaque, color, dried black fruits, pencil lead, a whiff of pipe tobacco--all a classic Cabernet is meant to be.
Small importers don't get dealt into the Bordeaux game this way, but somehow (with Paul's help I think), Joel Tauzin sold me a little wine that day, just 120 bottles. Here they are: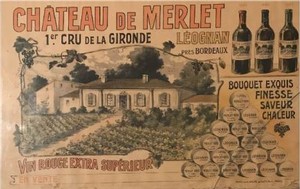 Domaine de Merlet, Pessac-Leognan 2015
just $28 on pre-arrival
5% off on six-packs, 10% off on cases of 12
(the ancient label is pictured)
Those two days with Paul in July yielded some great wines (D'Arvouet, Fleur D'Eymerits), but this one takes the cake. I hope you'll make a six-pack or two, or even just a few bottles if you'd like, a part of your forthcoming loot. I know I will!
To order, please reply here with your request, "Three", "Six", "Twelve"--your call. This one won't last long. I expect the wine to arrive in early December so you can give one a try over a holiday meal, or give out as a special gift. Or, store in your cellar for, oh I don't know, 25 years?
Cheers! (now go vote, or put your ballot in the mail!)
Dan
PS--Have you ordered your Thanksgiving Survival Kit yet? It's not too late--$96/six-pack or $180/case. Everything you need for the holiday table and to keep your aunts and uncles happy. Just reply here...