Happy Saturday!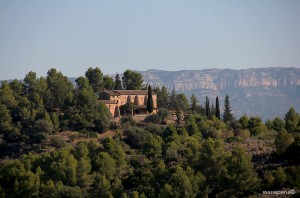 This one could be the start of a horse race. 3...2...1...Go! I know a few of you reading this already have placed back orders. We put this wine into our January "6 for 66" quarterly red wine package and within two weeks folks had called back on it and it was all gone.
To put it like Jodie Foster in Contact: "I had no....idea."
The wine comes from the academic turned politician turned farmer Jesus Maria di Mateu. His old-vine Grenache, Carignane (locally called Samso), and Cabernet Sauvignon vineyards in DO Montsant are fantastic. He began his project in 2002 with two guiding principles:
"Es pot ser humil, però cal ser excel·lent" i "No tan sols ben fet, a més a més bonic".

You can be humble, but you have to be excellent. And, not only well done, but also beautiful.
Done. And Done.
Finding Jesus' place is impossible. He offers to meet you in nearby El Masroig for a coffee and then you set off in his beat up Volvo station wagon, over dirt roads and across country for a 3km traverse to his home and winery.
This is rustic, Catalan, kinda wild countryside. There are eucalyptus trees, scrub oak, wild fennel, and a smattering of old vineyards--just 4 hectares in total, all planted on the famous llicorella--a fractured black slate that makes the wines of the region, and nearby Priorat, what they are.
Jesus works alone. There's a guy that comes around during bottling and harvest, but otherwise he is essentially off-grid, happily toiling in his vines, growing some tomatoes and other veggies for his kitchen, and talking to his chickens. Now and then a wine dork like me comes around and finds out what he's doing.

I did just that about a year ago. Jesus fried up some eggs and bacon, cut up a few of those tomatoes, and ripped into some crusty bread from the local bakery. At 2 in the afternoon we ate this "breakfast" and one by one tasted from his lineup of downright delicious wines.
As is often the case, it was the first wine that Jesus poured me that I kept going back to--his 'welcome mat' bottling if you will.
Mas de L'Abundancai HE-MA Montsant 2015, $17
On Pre-Arrival: Just $12.50
The whole choir is singing in this nice wine. The Grenache gives the red fruit lift in the nose, the Carignane provides the saturated complexity, and the Cabernet adds some chewy richness. For all intents and purposes this is a $25-30 bottle of wine, and frankly smokes lots of local, more popularly-known, bottlings at even a higher price than that.
I have 20 more cases arriving in just a few weeks. Let's call it June 1st to be safe. You'll be happy to drink this as a summer red. It's not a light wine, but it's not all oaky and sweet and vanillan either. Perfect for whatever you're grilling or barbecuing.
Want some? Please simply reply to this email with your request: "Sixer", "Solid Case",--whatever your pleasure. (I'd recommend a solid case on this one. You'll knock out the first 4 or 6 and be glad you did!) (Yes, I'm shameless). Or, you can read more about Jesus and his Montsant by clicking the link or photo above and order on-line.
Talk to you again on Tuesday with our final Spanish offer until the Fall--a white you also might not want to miss...
Cheers!
Dan