Hey Cru,
If you're like me, you totally dig walking into the house to the smell of cookies in the oven. I love making a beeline for the kitchen to what's cooling on the countertop and then making a meal out of some gooey chocolate chips, or maybe some shortbreads, or ginger molasses chews. Mmmmmmm.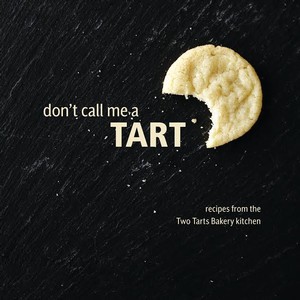 Such has been my life over the last 16 years married to Mrs. Tart. Once, while we first dated, Mrs. Tart transcontinentally mailed me a box of Cappuccino Creams (2 dozen) that I promptly ate in one sitting. I stayed awake all night, but it sealed the deal!
Many of you remember Mrs. Tart's sweet little bakery in northwest Portland called Two Tarts. She closed it a few years ago, but its smells and memories loom large and she has since been planning for this day.
The Two Tarts Bakery Cookbook: Don't Call Me a TART
Why am I telling you about this on my wine store pages? Because we want to combine the two things. Here's how:
Please mark Saturday December 10th and Sunday December 11th from Noon-6pm on your calendars. On this weekend we'll hold our Annual Holiday Tasting of Bubblies, Reds, and Whites--all while nibbling on Mrs. Tart's Fleur de Sel Chocolate Chip Cookies. (we bust out a lot of Champagne this weekend!)
The cost of this awesome cookie and wine tasting (as usual) will be $15.
But, if you buy a book, or books, the tasting will be free for you and a guest, and you'll also be able to pickup your book(s) in person those same days, with Mrs. Tart on hand for autographs, personal messages, and smudged chocolate fingerprints on the inside cover.
So, if you plan to come to the tasting, why not just buy a book?
PLUS, if you order before Monday November 14th, at the special price of $15 per book, she'll put your name on the gratitude page. You'll have a fun "where's waldo" time finding your name among hundreds of other tarts-obsessed fans in Tart Nation!
What's next? Simple. Just click the link or book cover photo and order yours online. (Note: you're ordering this through Two Tarts, not CorksCru). Questions? Reply to this email and I'll forward them on. She's sitting right next to me. Corporate gift orders? Bring it on!
Lastly, if Mrs. Tart gets 1000 pre-orders the book will be printed in a nice hard cover edition. Same price. As of today we're over halfway there!
Thanks as always for your support. Can't wait to see you soon.
Warm Regards,
Dan