Bonjour à Tous,
Sancerre is a 'go to' wine for lots of folks from lots of places. The name is well recognized, especially in Paris bistros, and when faced with a daunting wine list, or an overstocked wine shop, one can default to Sancerre and generally be very happy.
And for most people Sancerre means white wine (Sauvignon Blanc), but there is another side to this Loire Valley place--Pinot Noir. And it comes in two different styles--a dry, lively rosé, and a delicious, silky red.
Pierre Martin is our guy in Sancerre. Here's the story: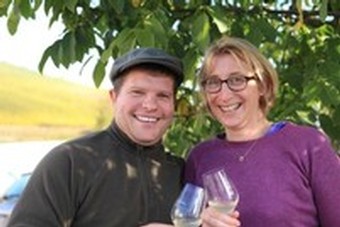 After WWII, Sancerre relied on the Seine to transport its wines to thirsty Parisians, kicking off the industrial revolution and rebuilding lives after 30 years of conflict. A museum in Sancerre chronicles all this and is worth a visit. The Sancerrois were true wine-marketers, putting on amusement fairs and driving around Paris in their brand-emblazoned delivery trucks. Sancerre owes its popularity today to this early promotional success.
The tradition continues when young winemakers like Pierre Martin head to Paris for a wine fair or trade show, or just to make a simple delivery. Pierre makes an impression. Another winemaker who is friendly with Pierre regaled me with a tale I'll not soon forget. A group of 10 winemakers were in Paris for a professional tasting and chose to end their day at a nearby restaurant. Instead of simply strolling there in the cool evening air, Pierre made everyone do "leapfrog" the entire two blocks!
They arrived happy, hungry, and energized.
For me, this is the essence of Sancerre in the glass too--lively, electric, smile-inducing, and oh-so satisfying. This goes for any Sancerre, no matter its shape, size, age, or color. That's right--Sancerre comes in red and rosé too, not just white wine. And Pierre's are a reference point for each.
Pierre Martin Sancerre Chavignol Rose 2016 is a pale salmon-y color, with loads of racy acidity and sneaky complexity. Pierre only made 9000 bottles. It is quite simply a perfect anytime pink. This is the second purchase we've made of this wine, the first having disappeared before arrival. $25
Pierre Martin Sancerre Chavignol Rouge 2015 might be the most exciting Pinot Noir I've tasted this year. To hear Pierre say it, there are only about a dozen wineries in all of Sancerre that should be making a bottled red wine, and of course, humbly, his is one. We agree. A ripe vintage like 2015 really provided a magnficent bottle that will age beautifully for 10 years. $29
How about a bottle of each?
Today, on special for
Just $45 for the DEUCE
The wines are in stock and ready to go. I'm going to open bottles of each tomorrow evening, Friday 10/20, from 4-7pm, for sampling.
Or you can reply here to order by simply writing "Deuce", and I'll get 'em ready to roll for you.
Cheers!
Amalie, Yamile, and Dan
Team Cru