Salut Cru!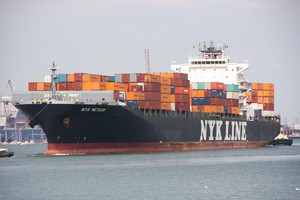 The company that handles all our ocean cargo sends out these awesome emails every time we have a shipment of wine that has departed Europe and is about to head across the Atlantic. The attachment to the email is called the "pre-shipping advice". And I just got one.

I'm a geek. I love getting these things because a) I like knowing that we have a nice load of wine on the way, and b) dorkily, I get to see the cargo ship details. This time it is the NYK Meteor-- a 290 meter long, 55,000 ton beast flying under the Panama flag, and currently steaming toward the canal of that name. It is scheduled to be in our warehouse by April 15th.

There are a few reasons I tell you this: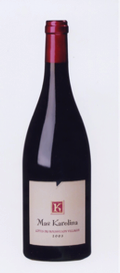 1) There's a wine on board I've not told you about. It's a bottle that you'll recognize, but in a new vintage. It is the saturated, intense, purple, teeth-staining Cotes-du-Roussillon from Mas Karolina. And in '16 it was a beast in its own right. This is old-vine Carignane and Grenache with a crack of the Syrah pepper mill for good measure. An annual fave of mine.

Mas Karolina Cotes-du-Roussillon Villages 2016, regular $25, on pre-arrival for just $17.

A great wine for the money and one that you can enjoy immediately, when the ship docks, or over the coming year and into next winter. A further 5% off on 6-packs, and 10% off on cases. Shoot me a note back with your request or read more and order on-line.

2) Lots of what's on the Meteor is pre-sold already. But, the following wines have a bit of stock still available. In case you missed these offers over the past few months, here they are:
Chateau de Brau PURE Cabernet Franc 2015, regular $18, on pre-arrival at $15. Hard to beat everyday Cab Franc from near Carcassonne.
Clos de Nines 'Le Mour' 2016, regular $23, on pre-arrival at $18. A pure Mourvedre from near Montpellier. Ready for you dust off your BBQ.
Domaine de Roquemale Lema 2015, regular $25, on pre-arrival at $19. A 20 minute drive from Clos de Nines but a world apart. Chateauneuf-du-Pape from another mother.
Mas Seren Etamin Blanc 2016, regular $22.50, on pre-arrival at $15. Annually one of our best white wines. A rhone-ish blend of Roussanne and Grenache Blanc from the Cevennes mountains. Wow.
Francois Baur Gewurztraminer 'Herrenweg' (dry) 2016, regular $27, on pre-arrival at $19. A great new addition to our portfolio. The best smelling white wine I sell--roses, lychee, and fresh ginger. Double Wow.
Again, please simply reply with your request. As above, any mixed 6 for a further 5% off, or any mixed or solid case for 10% off. Or, write me back and say "bottle of each of the above, dude." or "mix me up a case of the reds, dork."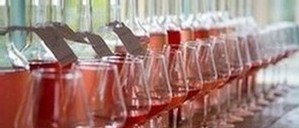 3) Pre-order your 2018 "PINK DON'T STINK" 6-pack of Rosé now. I'll release this year's mix sometime during the first few weeks of May, about a month earlier than last year. This is a reservation only. I'm doing it this way this year in order to make sure everyone gets the quantity they want. 2017 was a very limited vintage in most of France--even for the everyday pink wines.
$75 for the six-pack. $144 for a Double Down mixed case.
Simply reply here with your request and your reservation will be confirmed. I will not tender your card until the day the wine is released and ready to pickup or ship--probably around May 10th.
As I've done the last few years, this year's sixer is a tour along the Mediterranean south of France, and a look into the fine work of six women winemakers. On deck are the fresh bottlings from: La Camarette, Mas Seren, Roquemale, Clos de Nines, Mas Karolina, and Chateau de Rey. A great and tasty haul ready that will be ready to queue up all summer!
Enough for now. Have a great weekend.
Cheers!
Dan