A GIFT BASQUE-ETTE?
A 5+1 TXAKOLI OFFER
Kaixo Cru,
This was our single most popular email offer last year. Why? I think it was the meat or fish question. The story goes that when I first contacted Josu Egoitz Zubiaur and asked to visit his winery he replied like this: "Yes, please come. My English not good. You want meat or fish with lunch?"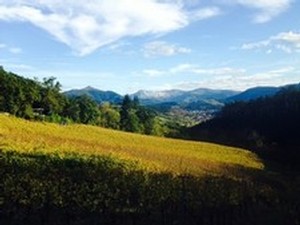 The note set the tone of how things worked at Txakoli Garate, a hidden gem of a winery in the Basque countryside between Bilbao and St. Sebastien. I knew going in we wouldn't be having any high level wine business conversation. This first meeting would be about lunch, and wine. And it was.
Fast forward one year and I contacted Josu again to see if the 2016s were ready. They were, and I placed our order. One pallette, half white, half rosato. But this year, things aren't going to go exactly the same way. This is the note I got in return:
"I wanted to tell you something about the order, this year I can only send you 5 boxes of "cock eye" (ed note: the Rosato) because it was a very dry year and the old vines suffered. Regarding the white ones I wanted to propose a question, I would like to be able to send you the complete pallet like last year. In this case I would give you the 5 boxes of pink to reward you and your customers for your fidelity and the great effort involved in carrying more boxes than those planned. How about?"
After further digging I found that they made only 300 bottles of Rosato (!) and Josu and his father decided to GIVE us 60 as a gift. And, as I've gone to find out, the 600 bottles of white that we're receiving represents about 20% of the whole production. 2016 was a rough winemaking year, for many parts of Europe. Yields were down 80%. You wonder if finished wines were diluted a little by tears.
Either way, small quantity vintages almost ALWAYS lead to high quality wines--just not much of them. So, here's what I propose we do:
I'm going to pass that gift bottle of Rosato on to you. Free of charge to me, free of charge to you. If you purchase a 5-bottle lot of Garate Txakoli White, a 6th bottle, the "cock eye" (officially called Ojo de Gallo) gets included on us/them. The regular price is $18 for both wines. That makes $102 for the 6-pack. But your price is:
Just $75
By my math that's about $15 per bottle for the white and a bottle of Rosato on the house. If you take advantage of this offer, and I shamelessly hope you do, tip a glass to Josu and his father and wish them good success for 2017. Another vintage like last year would not be good...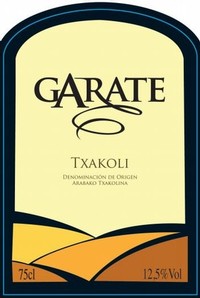 The white is just glorious in the glass. Unlike Txakoli from nearby San Sebastien, this one is NOT slightly fizzy (the Zubiaur' roll their eyes at this type of wine). Instead it is intensely focused with aromas of gooseberry, lemon/lime, and lychee. Nice and bone dry in the mouth but with incredible richness. There's no bad time to open a wine like this.
The rosato is more like a pink wine for red wine lovers. A longer than usual skin soak gives a dark garnet-colored wine. Century-old vines, coupled with the difficult vintage, have given this bottle a wonderful richness for a pink (nah, light red) wine. Find a quality meal this summer and enjoy this bottle sip by sip.
The wines have shipped. I expect them on our doorstep by the end of June. This is the final Spanish offer until the fall. To order please reply with your email: "Sixer", "Two Sixers". Or click the link or photo above to read more and order on-line.
I think this is one of the best $75 you can spend with us this Spring. Quantity is limited. The wine is IN and ready to go as of the sending of this email. Fire away!
Cheers!
Dan