PRE-ARRIVAL OFFER #7 OF 2018
EXCEPTIONAL BARBERA, EVERYDAY PRICE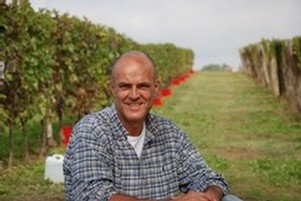 Savio Domenici speaks perfect English, but in a slow, long-drawn baritone. He is always smiling, seemingly enjoying a good life in the Monferrato hills, near the city of Casale. He is new to wine. Well, he's new to making wine, having begun his project only 10 years ago. And in the Piedmont, ten years is nothing, and Savio is still a relative unknown in the wine world.
So when a distributor asked hiim following the nearly perfect 2015 vintage to prepare 2400 bottles of a special wine just for them (nearly 20% of his whole production), he agreed. He liked the idea of building his brand this way. It was a smart decision except for one thing--the guy never came back for the wine.
As I sat with Savio listening to this story he looks at me and asks, "How would you call this guy in English?"
"A jerk," I replied.
"YES. That is it. A big JERK!" And then after a pause... "I will remember this word."
Alas, Savio was left with all 2400 bottles and slowly and surely began parsing it out here and there--some to a restaurant friend, some to Denmark, and finally he asks me if we want some. "The price will be good," he says. "And I hope it might help your customers appreciate my wines."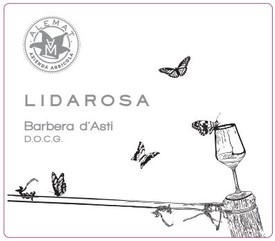 Sold.
Alemat Barbera d'Asti 'Lidarosa' 2015
Just $12 on pre-arrival
5% off on six-packs, 10% off on solid cases
I'm not sure there's a better deal out there right now if you're hunting an Italian House Red to have around for any 'ol reason. This wine is purely and simply delicious, a red fruit salad, with uncommon richness and complexity. If Savio hadn't made this wine, the juice would have been dedicated to his more expensive bottlings. In fact I think it would be unfair to call it a "baby" Barbera. It's as good as other wines from the area at twice the price.
Thanks to a Jerk, you get the most screaming red wine deal I may offer you all year. I'm bailing out that jerk and buying the last 600 bottles or so that remain.
To order please simply reply here with your request--"Six", "Case", "Couple Cases"--whatever your pleasure. Or click the link or photo above to read more and order online. I expect the wine to arrive around mid-June, just in time for summer slurping (slightly cool) and to keep you stocked with an easy drinking red heading into next fall. And to keep it local, you might hunt up a nice agnolotti recipe to go along...
Cheers!
Dan
PS--I've just returned from a terrific 10 days in Italy (some more new stuff forthcoming from Piedmont) and Portugal (some REALLY exciting wines coming soon too). Stay tuned in the coming weeks for some introductions...