Hiya Cru,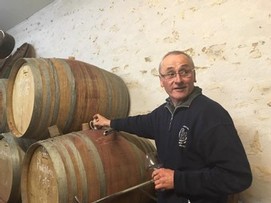 Today's missive marks the last of the wines I'll offer from our forthcoming container that is expected by early October. In fact, save the dates of Saturday and Sunday October 13th and 14th. We'll throw open our warehouse doors for another pickup party where you can grab your goodies right from our dock, taste wine, play some shuffleboard, and enjoy a nibble. More info to come...
Back to the offer at hand. When I met Emmanuel Rouquette a few years ago he made only one white wine, a blend of all the grapes he grew that he called Blanc de Blancs. So I was really thrilled to find this past year that he tried something new. He bottled each of his varieties separately for the first time. He actually began doing this back in 2015 with his Pinot Gris, but only last year did he have the quality to do so with Sauvignon Blanc and Chardonnay.
I think Emmanuel is our must unsung winemaker. He makes wine in Burgundy, on a mere 4 hectares, and is the beating heart of one its tiniest appellations, the Cotes-de-la-Charité. Located near the Loire river, one might not think of Burgundy, but I find his wines more of that type--a bit richer, fuller, rounder and more complex than those just 30 miles away in Sancerre.
Plus, his wine quality rivals that of many wineries in sexier appellations in the Cote d'Or like in the Macon or Cotes-de-Beaune.
With this Puits Compostelle Mixed Whites 6-pack, for just $89, you'll receive 2 each of these wines:
2017 Sauvignon Blanc--a fresh and citrusy Sauvignon with surprising richness. Made all in stainless steel tanks and drunk best over the next year or two.
2017 Chardonnay--kind of reminds me of a baby Chablis. But a quick pass through older barrels for a few months gives this beauty a nice bit of weight and richness.
2015 Pinot Gris--the first ever pure Pinot Gris I've imported. From the very ripe and generous 2015 vintage, it is honeyed and floral, but also nice and dry. The wine has a golden/copper color in the glass from a short skin contact.
Emmanuel only made about 500 of each bottle, and I have 20% of them en route. They all will retail for $21/bottle, but on pre-arrival, they're under $15 for you. If you buy two six-packs the price goes to $84. These are lovely white wines to have around this fall and into next Spring. Want some?
To order, please simply reply here with your request: "Sixer", or "Mixed Case"--and I'll confirm with you straight away. Or, you can click the link above to read more and order online.
Have a great week!
Cheers,
Dan