Ciao Cru!

In the local Piemontese dialect La Casaccia translates to something like "shitty old house." Giovanni Rava likes telling that story when you first arrive at his winery because what one sees above ground tells a pretty neat story about what is actually underground.
Two or three hundred years ago, when cellars were built, the owner would have dug big rocks out of the ground (called Pietro da Cantoni, a local sandstone) and left them in piles surrounding the enormous hole. Then, once the cellar foundation was constructed and the hole covered over there were lots of rocks left unused. So, what did they do with the leftovers?
They built houses all around the new underground cellar of course!
And this is what we have at La Casaccia. A gorgeous, centuries old cellar, modernized for cleanliness and electricity, and Giovanni's so-called "shiity house" sitting directly above it. (which by most people's standards is actually quite lovely)
In fact, parts of these cellars have now become protected Unesco heritage sites. Each one has its own small room called an infernot that was probably dug out over many years by hand, sort of like a reverse sculpture. Many of them have tables and shelves built right in. You can still see the chiseling marks!
This is the Piedmont, specifically a zone called Monferrato, about a 45 minute drive from the more well known Asti. It is Barbera country, and here in the tiny village of Cella Monte, Giovanni, his wife Elena, their son Marcello, and daughter Margherita, are doing some great work. They've been farming their 6 hectares organically and without pesticides since 2000.
Everything that's happening at La Casaccia is filled with good energy--they're happy smiling people, they have a beautiful garden in their courtyard, and the wines...Well, you'll see.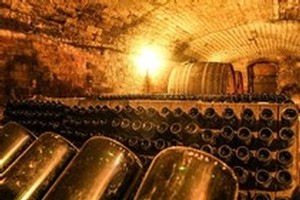 Over a ridiculously good lunch last Spring (Elena can like, really, really cook), I tasted and loved the whole range of the Rava's wines, but the one that still sticks out is this Barbera, a wine aged entirely in huge upright botti (big 1000 liter barrels) for 2 years before release. The botti (you can see them in the background of the photo) are decades old and don't impart oaky flavors and aromas, but they do give the wine an unmistakable silkiness, complexity, and richness.
I'm a big fan of these things and when I walk into a cellar my quality radar immediately goes off.
La Casaccia Barbera del Monferatto Bricco dei Boschi 2014, $24
On pre-arrival: $16
Six-packs at $90, just $15/bottle
I really like Barbera in general, but this one is a true knockout. I love the pure, concentrated grapey-ness of the wine, but also the sneaky complexity too. Giovanni insists this isn't a wine to just sit around quaffing, preferring it instead with Elena's homemade tortellini, or maybe a nice roast. Personally I could go either way, but mostly I think we should all go to dinner there sometime...
There were only about 1500 bottles produced of this very nice wine and I managed to snag 120 of them. That's just 20 six-packs to go around. As usual, a reply email with your request will seal the deal: "Three", "Sixer", "2x Sixer"--your call. Or, you can also click the link or images above to read more about Giovanni Rava and place your order online.
Cari Saluti i Un abbraccio grosso!
Dan