ITALY'S BEST WHITE WINES?
A PRE-ARRIVAL 3-PACK OFFER
Hi Friends,
If you could be a white wine from Italy, what would you be? A honeyed, waxy Gavi from Piedmont? A slurpable seaside Pinot Grigio from Venezia? Maybe a rich Orvieto from Umbria, or a zippy Frascati from Rome?
All nice wines, with some good examples to be found. But for me, NO.
I would be from the Südtirol, way way northeast in Italy, almost into Austria. I'd be living in the Dolomites, with a great daily view of the mountains and the job of accompanying some great Tyrolean food--maybe risotto with speck, or a plate of light and airy gnocchi with spring vegetables.
White wines from the Alto Adige are among the best in Italy, and may even be among the best in Europe--Chablis, Sancerre, and the Mosel notwithstanding. And we just scored a reference point.
I wrote a few weeks ago about the Motta family that runs a tiny (micro really) winery called Maso Thaler, situated high up the winding, mountainside curves and cobblestoned villages near Bolzano. I'd gone there looking for Pinot Noir (and found it), but ended up equally impressed, and eventually gobsmacked, with their lineup of whites.
Brothers Francesco and Filippo looked at me surprised when I ultimately asked if I could buy some wine. They were sure their style wouldn't suit American taste. But why not? They are each so unique and delicious. I can't wait for them to arrive. These are mountain white wines through and through--explosive aromatics, crystalline purity of fruit, and refreshing, slurpable acidity.
When I arrived they had just completed setting up a mobile bottling line and were getting ready to bottle the 2016 whites. Normally they would hold these until late Spring to release but I convinced them to ship us some small quantities now since it would be mid-May til they arrived anyway. They scratched their chins and then said, "Why Not?"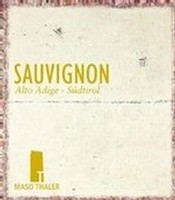 Below are the three, phenomenal whites of Maso Thaler:
Sauvignon Blanc 2016 (4000 bottles produced)--I judge Sauvignon Blanc harshly. In poor versions, there's a lot not to like. But here, I just can't stop thinking about it! A light straw color with intense grapefruit and citrus flower on the nose. Mouthwatering from the get-go. In the mouth, pure wonder. A rival to some of the finest Sancerre I've ever tasted. The Motta harvest this at two different times about 10 days apart--first for acidity, then for ripeness. During the tasting, I kept going back and back to this wine. I couldn't get enough! And neither will you. ($28)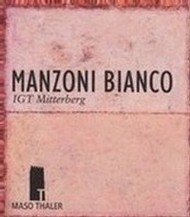 Manzoni Bianco 2016 (1500 bottles produced)--The Manzoni white grape, known also as Manzoni Cross, is a clone of Rhein Riesling and Pinot Blanc. It was created in the 1930s by Prof. Luigi Manzoni, then the dean of the Enology School in Conegliano. I'd never even heard of Manzoni before, but you can bet I'll never forget it. Neither will you. The nose is aromatic, subtle and elegant, with notes of peach, apple, and tropical fruit, and a flowery bouquet. The taste is savory and mineral. Overall I'll go out on a limb and say this is one of the coolest white wines we've ever imported. Pinot Blanc and Riesling? Heck yeah. ($26)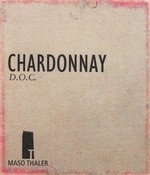 Chardonnay 2015 (4500 bottles produced)--There's a lot of Chardonnay in the world, but none like this. This is the Motta's youngest vineyard, planted in 2000, but their highest elevation at nearly 800 meters. Warm sunny days and cool, acidity-protecting nights coupled with very low yields give a ripe yet very fresh wine. A six-month aging in old barrels and a further six-months in bottle occur before release. This is a Grand Cru Chablisienne bottle of wine right here. ($25)
Maso Thaler wines have never been imported into the US before. The Motta's sell most of their wine in northern Italy, and to a few other European wholesalers. Needless to say, there isn't much to go around. We're fortunate to have wrestled away six cases of each of the above wines. That's all folks.
So, as I'm wont to do--let's put these beauties into a 3-pack, shall we? A bottle of each, so you can try them all.
Maso Thaler 3-pack of Whites, regular $90
On pre-arrival, just $66
or better:
$119 for a six-pack (2 bottles of each)
To order, please reply to this email with your request, or click the link or photos above to read more and order on-line. I expect these wines around May 15th, 2017.
Ciao!
Dan
PS--Two Italian offers to go--one more small-production red this weekend, and our second pink offer of the season a week from now. Then, a small break as we head back to France and Spain!