Hola!
I'm in Spain for a quick few days so that I can dial up some treats for you that will arrive sometime after Thanksgiving. Specifically, I'm in Catalonia, the northeast corner of the country, where the mountains meet the sea, and where wine-wise I think some of the Spain's most exciting stuff is coming from. Like this...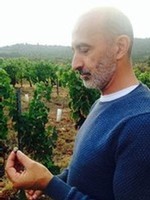 The Priorat of Ramon Almazora has a good following on these pages already. But, there's more than originally planned going on at his Mas de L'Abella right now. Primarily is that a few years ago he began bottling a "value" Priorat (of which I didn't know really existed) called Titi--named for his grandmother.
And the wonderful 2015 vintage of that delicious wine is ready to ship.
Ramon is a dental technician by day in Barcelona, and on weekends he travels the 1 hour to Cornudella, the edge of Priorat country, to tend his family's small plot of just 4 hectares. On it is an old farmhouse that he has converted into a winery. It's where is grandmother went for safe haven as a young girl during WWI. She often referred to it as the abella--where the bees are kept. The name stuck.
The wine is based on some youger vine plantings, and made only in tanks or really old barrels. Plus, he releases it in its youth, in order to enjoy it, like, right now.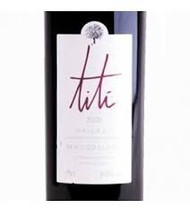 I would call this "baby" Priorat dark, stormy, succulent, and concentrated. For my money there's really nothing like Priorat in the wine world. It's grown on steep vineyards of schiste (slate) and the local licorella. Resulting wines are always black-colored, chewy, and concentrated. This one is plummy from the Grenache, plump from the Carignane, and you guessed it...teeth staining (from the Cabernet).
When we first offered his Priorat a few years ago he read the email story and then wrote me back to ask what "long in the tooth" meant. He now uses it as a joke among his dentist buddies.
Mas de L'Abella Priorat Titi 2015, $18
On pre-arrival just $13.00
Six Packs at a flat $75, only $12.50/bottle
It used to be that a wine importer couldn't sniff around in Priorat for under $40/bottle. But as plantings increase, new wineries crop up, and consumers demand something more "value", wines like this happily get created. I feel lucky. This is another one of those Road cru exclusives--available nowhere else in the US. Ramon produced just 2500 of these babies. 10% of them are on the way.
To order some of Ramon's delicious everyday Priorat please simply reply to this email, or click the links/photos above to read more and order online. I expect the wine to arrive in the early part of December.
Un fuerte abrazo!
Dan