Terra Remota (Catalonia, Capmany)
DO Emporda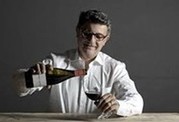 When I first made the turn into the driveway at Terra Remota I almost immediately turned around and continued on my way. Staring at me was an Architectural Digest winery, very sleek and modern. This usually doesn't add up well for me, especially when many of the wineries I visit are situated in machine sheds or in the cellar under the winemaker's house.
But the little devil on my other shoulder convinced me to plod along. And I'm glad I did because this day was among the top 2 or 3 highlights of my recent buying trip.
Terra Remota is a relatively new operation, begun in 1999 by Marc and Emma Bournazeau, a warm and welcoming French couple from just across the border in the Roussillon.They discovered the land, with absolutely nothing on it, about 20 years ago and over the subsequent two decades have turned it into the gem of the Costa Brava. There was no expense spared, and the results are just astonishing.
The vineyards sit on a unique geography for the region, pure Granite. Most of the soil types in this part of Spain are clay and sand, but not here. And as such, their wines, especially when compared to their neighbors', feature unusual complexity, minerality, and structure.
I toured the vineyards and winery for almost two hours, all the while thinking to myself, "self, are these wines going to suck or will they really truly reflect all the capital that has gone into this place?" And, more importantly, will they be worth it?
Um, well, yes. The wines were magnificent. And, uh, yes. They're worth it.
The leadoff hitter at Terra Remota is called simply Camino ('road' or 'street' in Spanish) and I love the naming convention with Road Cru. But what's in the bottle is far more important. Here we have Grenache, Syrah, and Cabernet Sauvignon working harmoniously together with one year of aging in French oak. The wine is so mouthwatering, clean, pure, extracted, and pretty. My notes say "is this the wine of the trip?"