Sao del Coster (Catalonia, Gratallops)
DO Priorat & DO Rias Baixas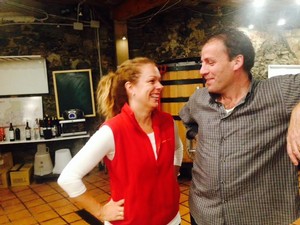 Since I began importing, I have wanted to add a winery to our portfolio from the Priorat town of Gratallops. Why? Because it is breathtaking and magnificent, and probably one of the most extreme places to grow wine in the world. Not long ago, I read about a project started by a first-time-in-the-wine-biz young couple called Sao del Coster and sent off an email. Michele Negron Gonzales got right back to me, and agreed to a visit--right in the middle of harvest! She and her husband met the same way--on the internet! Michele was an English teacher living in Madrid, and Xavy a journalist from Barcelona. She taught him over Skype and, um, one thing led to another. When they finally met face-to-face at a wine tasting, their fates were sealed. Within a year, they quit their jobs, moved to nearby Falset and purchased two small vineyard plots on steep hillsides near Gratallops. Now THAT's a love story!
They make their wine in a renovated 3-story townhouse in the village and use a mule, that's right--a mule, to work their vines. (Steep is an understatement here)
There are a few other wineries in this magnificent village, all with precious wines that start at $50/bottle and move north from there. But Michele and Xavy want to make wine for the people. Even though they do in fact make some "elite" blends (more on those in years to come), I was thoroughly smitten with their two "entry level" wines, if you will. This is a really small winery--they make just about 5000 bottles total--and I managed to talk them into a tiny introductory purchase. I'm offering these especially to you and just a few dozen other people today.
We have a study in Priorat style here. The Pim Pam Poom is youthful, exuberant, juicy, and fresh--a Priorat meant for everyday drinking, which I didn't even know existed. The 'S' is a far more rich and complex wine, powerful and dense, yet filled with gobs of fruit and layering. Four people over for dinner might start with one, and finish with the other!