Celler Noguerals (Catalonia, Cornudella)
DO Montsant & Do Priorat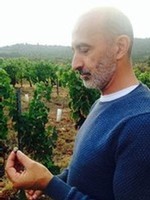 The Finca Mas de L'Abella is an old farm located near the village of Cornudella de Montsant. Before WWII Ramon Alzamora's grandmother was taken to L'Abella when she was a little girl in order to protect her from what was to come. In later years he often heard her speak of the "Abellars"--the place where the bees are kept, but he never knew precisely where it was.
In 1999 Ramon learned that L'Abella was available for purchase and was surprised to find out that it was only about 10 minutes from his village! All those years he had never actually known that the farm was literally in their backyard.
Such is the pace of life of and the movement of information in Catalunya, and specifically in the Priorat. This is a rugged, high elevation place only 90 minutes from Barcelona by car, but seemilngly a world away--full of peacefulness and tranquility. (if it wasn't so darn hot in the summer we could happily live here)
Last year I drove with Ramon to Abellars from Cornudella village. The 10 minute trip was mostly on a one-lane dirt road with lots of potholes and barely suitable for a tractor. Then lo and behold we came to a small old farmhouse (a finca) that Ramon had not long ago converted to a winery. Here, he makes about 8000 bottles of Priorat from four hectares of vines. To call this a micro-winery would be a stretch.
The vineyard is a dry-farmed wonderland of black slate--locally called licorella--and grows Garnatxa (Grenache), Mazuelo-Samso (Carignane), and Cabernet Sauvignon. At 400 meters of altitude one might imagine a cool climate red wine, but no, these Priorat are inky and glass-staining, with great concentration and depth of flavor. Ramon makes Titi (named for his grandmother) to drink young, a youthful counterpoint to his more powerful, barrel-aged Abellars Priorat.
Two Priorat, meticulously farmed and belying their price tag!