Celler Comalats (Catalonia, L'Ametlla de Segarra)
DO Costers del Segre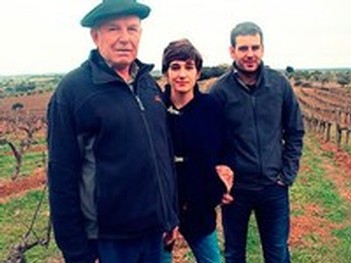 There is one road in and out of Ametlla de Segarra. At first, I thought the GPS was broken. If another car tried to pass I would have had to pull into a farm field. Plus, there were no vines to be seen--only olive trees, cereal fields, and almonds. There's a winery here?
So I parked in the small village (Population: 14) and went to 40 Calle Major and knocked on the door. Two delightful young women, sisters Eva and Nuria Bonet, bounded out the door to greet me, filled with energy and enthusiasm, and our 4-hour visit commenced. It was a great day.
I usually visit vineyards in a truck. Here, we walked. I often get treated to fancy tastings at a polished table. Here, we stood in the doorway and spit wine into the street. There was no gourmet meal. Here, we nibbled local cheese and sausage and then went for an 11 Euro lunch in the next village (Population: 30).
This is the way buying and selecting wine used to be, and probably still should be...
I was interested in Celler Comalats from reading about their work as organic farmers ("always have been, always will be") and because they do something unusual for vineyard owners--they work with just one grape variety. In this case, Cabernet Sauvignon.
In 1989 Jaume Bonet decided to replant his family's entire vineyard. But he did it in an unusual way--entirely to one grape variety--Cabernet Sauvignon. His decision was risky but over lunch recently he told me he was never worried. He thought he had it right from the beginning.
And he did.
Over 25 years later the Bonet vineyard in the far outreaches of the Costers del Segre, northern Spain in the beginnings of the Pyrenees foothills, is to my mind the jewel of the whole appellation. Divided among four parcels, the Bonet vines are farmed organically (and always have been), are filled with life, and yield pure and magnificent grapes. If you believe in this sort of thing, the positive energy here tacks off the charts.
From 1992 through 2005 Jaume made only one wine from his vines--a Reserva Cabernet that he aged in oak for one year then held back for another two before introducing to the market. But in 2006, during the beginning of Spain's economic crisis, Jaume decided to stop making the Reserva and instead concentrate on a more youthful, expressive, juicier style to take to market. The decision also coincided with his two youngest children entering the business--Eloi to manage the vineyards, and daughter Eva to run the winery and commerce.
The 2005 Reserva was the last wine ever made in the old style--and it was magnificent. A "vintage of the century" as many put it at the time, yielding 25000 bottles of structured, powerful, commanding Cabernet that today tastes as if its only 3 years old.