Mas de l'Abundancia (Catalonia, El Masroig)
DO Montsant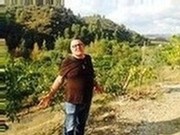 Not long ago, the New York Times published a piece as part of their wine school extolling the virtues of Montsant, a part of Catalonia about 90 minutes southwest of Barcelona. I have just been there for maybe the fourth time in the last two years, and everything in this statement is correct:
"Among the most interesting to me has been Priorat, a craggy, isolated hillside territory in Catalonia. Its best wines, sometimes made from old vineyards of garnacha (grenache) and cariñena (carignan), can be magnificent, full of distinctive mineral flavors. They also command some of the highest prices for Spanish wines.
...But fortunately, Priorat has a less expensive neighbor, Montsant, which offers wines made from a similar set of grapes that can be quite delicious in their own right. The relationship of Priorat and Montsant is not unlike that of Châteauneuf-du-Pape and Gigondas."
--Eric Asimov
I know the locals might take exception to the whole comparison thing, but the reality is that these are two VERY intertwined regions. So much so in fact, that the separation between a winery's Montsant vineyards and those in Priorat can be nothing more than a tractor path or small creek.
Jesus Maria di Mateu is a retired college professor of anthropology and history at the University of Barcelona. Ten years ago he began his second life (at 51) and returned to his boyhood home to renovate his families 6 hectares where Priorat and Montsant have their geologic meeting. (separated by the river just below his property) For years Jesus sold most of his wines to Mondavi, but this project ended about 3 years ago. Our timing was excellent as Jesus has been wishing to get back into the US market but not quite sure where to start.
The Mas de L'Abundancia Montsant Fluminis 2015 is an incredible counterpoint to Ramon's bottle-aged wine. Here you'll find a succulent, youthful, rich Grenache and Carignan blend that stains the teeth, and is just downright silky and wonderful. At $25 it smokes lots of Priorat at twice the price!