Vinhos Prior Lucas (Souselas, Coimbra)
DO Bairrada--Tinto, Branco, Blanc de Noirs and Brut Rosé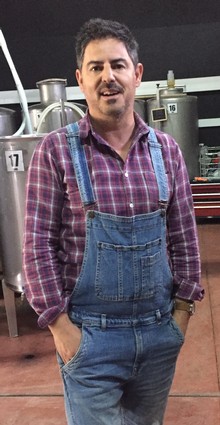 Five remarkable things happened on the day we first met Rui Lucas.
1st--We were early, and to kill 30 minutes we pulled into a neighborhood café in the industrial part of Souselas for a quick pingo. We left 29 minutes later, filled with best cabbage and potato soup on the planet, fresh oranges, and a carafe of teeth-staining red wine to wash it all down. Lunch for four: 16 Euros. God I love Portugal.
2nd--Rui's winery turned out to be about 2km away and we entered through an industrial zone, driving behind a gas station, and bordering a quarry where we could hear the occassional explosion. A warehouse winery! Heaven for me.
3rd--Rui greeted us in overalls.
4th--The first order of business was to teach us how to properly saber a bottle of sparkling wine. Now THAT was a proper kickoff to a tasting!
5th--All of Rui's wines were flat out great--reds, whites, bubblies, and even the olive oil.
A wine importer's pentagon--Warehouse winery, farmer in overalls, one man show, a cheap and delicious lunch, and a nearby quarry. BOOM!
Here they are: