Adega Monte Branco (Estremoz, Alentejo)
DO Alentejo Red, White, and Rosé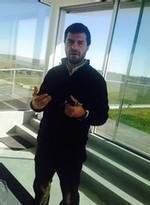 This guy right here started his winery at 23, the son of well known winemaker in Estremoz, granted a small plot of land and pat on the back. Good luck, he was told.
14 years later Luis Louro has assembled one of the finest and prettiest wineries in the Alentejo, cobbled together some wonderful old vineyards, and just in the last few years began planting his own.
The Adega Monte Branco is everything I love in the spirit of a young winemaker with energy, passion, and a determination to create something special and long lasting.
We'll go back again and again to Monte Branco and when we do we buy a little of everything. Why? Because it's all good! There's no cherry-picking necessary here. All of it is special.
Even though this is white wine country, I sense that Luis is most proud of his whites. The youthful and mineral-ladedn Alento Branco is ready for summer quaffing. A pretty serious wine for the price. But it's the Alento Branco Reserva that is our cup of tea. Literally. I love the jasmine, herbal, and hisop aromas here. A judicious use of barrels allows a nice silky texture.
What more can one say about rosé? Luis' Alento Rosé is everything one could want for their backyard quaffer, patio barbecue, trip to the beach pink wine. It is dangerously good. And at that price? Buy it by the case load...
The Alento Tinto is a plump, wild-fruited, opaque wine. The schiste soils give a haunting minerality, but the warm, dry sun of the Alentejo makes for a rich, succulent, saturated wine. A beautiful bottle to enjoy year round. The Alento Reserva Tinto picks up where the first leaves off--a few extra years of bottle age, a bit of aging in barrel as well, and the result is a satiny-textured, and saturated red that demands a big barbecue.
The creme-de-la-creme here is Luis' straight up Monte Branco--year in and year out, his best barrel selection from his choicest vines. I find it one of Portugal's best reds. Certainly a benchmark for the Alentejo.
I hope you enjoy some of these great wine in your own home!