Sfriso (Veneto, Chiarano)
DOC Prosecco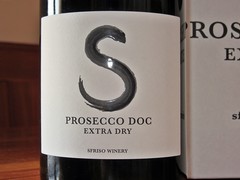 This is a 'mission accomplished' winery. It's one that I have been researching and anticipating for maybe 25 years--as long as I've been an importer. After countless trips to awful wineries, (well, more like oil refineries) and pointless conversations with agents, marketers, and brokers, I've finally found it...
Now some of you might read this and think, "There is no such thing as really great Prosecco!" And, until this year I agreed with you. I had largely given up on the idea that one can find Prosecco that is truly authentic and meaningful. Why? The reality is that most Prosecco is a mass-produced, industrialized, shockingly bad beverage. And yet, along the way, it has become one of the world's most popular.
Go figure.
I've consumed plenty of Prosecco, and I'm not alone. None have been memorable, yet I've always finished every glass. Such is the nature of a drink that is bubbly, slightly off-dry, low in alcohol, and easy to turn into a base for a cocktail. It sort of has a "who cares?" quality about it. And sometimes that's ok, right?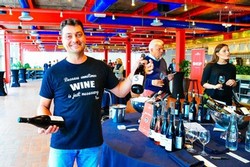 For years I've been convinced there had to be something more. I was looking for a winemaker that actually ENJOYED what they were doing, rather than looking and acting like a tired, affected, soul-less commodity trader. I wanted to find someone that was HAPPY making Procecco.
And this past Spring I met Pier Sfriso. And he changed the game.
I had shared a few emails back and forth with Pier before visiting him and already knew I might find something special. To wit, his first paragraph written to me:
Réka and I believe that wine brings along lots of joyful moments and experiences, therefore we do not really like an approach towards it which is too often too serious and way above common people. We just love wine and everything that comes with it. It is my opinion that people who like wine are people who enjoy good food and, as a consequence, people who enjoy life, travelling and meeting new people. This is, in short, who Réka and I are.
When I arrived in Italy and spent four hours with Pier in his modest winery, it was like sunshine beaming through the clouds after a bout of rotten weather. (Cue the theme song from Hair.) Throughout, Pier's daughters were in and out, noshing on all the bread, eating the olives and peppers, fetching their cat from my rental car, and sneaking snippets into the conversation (they're around 10 and 12). Then Pier's winemaking buddy came by and downed a few glasses with us. He was a happy fella too. He whispered to me that I had found a hidden treasure.
Just when I thought the visit could not be any more fun, the deal was sealed when Pier brought out salami from the neighor. I'd never had anything like it. The daughters sat down with us, the winemaker friend reappeared, we polished off that ring of porky goodness, and killed a few bottles along the way. Pier wrote me back a week later to say that his neighbor was pleased with my enthusiasm for his meat.
Pier's Prosecco is simply wonderful--an intensely foamy, lively, refreshing sparkling wine without a hint of the spun sugar and gummy bear aroma that plagues so many others.
We're the first to import Pier's wines into the US. In fact, he has a blog post called "Wine Importers are Freeloaders" that really tickled me when I read it. I've explained to him that my intent is to put his wine into the hands of folks that will really dig it, drink it with impunity, and maybe even enjoy a little salami at the same time.
Come and get it!