La Salceta (Tuscany, Loro Ciufenna)
DOC Valdarno di Sopra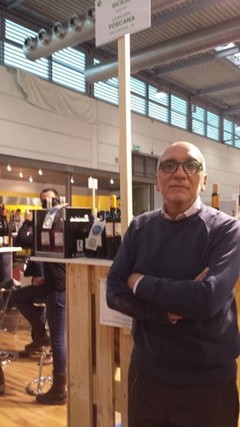 I was warned by someone close to me that I might strikeout in Italy. It was hard to argue. My batting average visiting wineries in France is about .600, pretty darn good. In Spain, it's about .400, still worthwhile. But in Italy, historically for me, it's about .100. That's right, one hit in every 10 at bats. Ugly. And who wants to visit 50 wineries with the hope of landing five? Not me. That's waaaay too much dried-out, herbaceous, leathery, whiskey-scented red wine for one wine importer. Yuck.
Why is it like this? Mostly its because I judge hard. I don't like dirty wine and I don't like sloppy wineries. Also, the viticulture scene is chaos. There are so many wineries, and so much bad wine, and a lot of that wine is already head-scratchingly available in the US market. Finding something new and noteworthy is nowhere near as easy as finding a good meal. (which is wonderfully easy, thank goodness)
So, when I met Ettore Ciancico in Tuscany I didn't want to leave the batter's box.
Everything was a homerun.
Ettore is what I would call a traditionalist, modern winemaker. He runs his vineyard in Tuscany, and the other growing pink grapefruit in Sicily, the same as one might expect of a farmer 150 years ago. Lots of work by hand. No chemicals. No pesticides. Everything truly organic. Ettore has farmed Salceta organically since he began developing it in 2000. He also farms olive trees for oil, and acacia for honey. The biodiverstiy is important (and unusual here, where there is virtual ocean of grapes in view as one drives around). His wines are bright-fruited, juicy, and teeming with life. There's something special here.
But his winery is modern. All stainless steel tanks with temperature control, and all hyper-clean. The result is wines with freshness, exuberance, and life.
Best of all, he bottles his wines with an awesome glass cork called Vino-lok. Pop it off, pop it back on. Never a corked bottle. Fully recyclable. I bet wineries in the 1800s would have loved this! Ettore understands well that his Sangiovese shows best when it is preserved as it was in the tank---filled with fruit, juicy and complex.
What we have here ostensibly is one of the best Chianti I've tasted in years. But we're not calling it Chianti, okay? Because its better than that. Way better.
Ruschieto is a one hectare vineyard in the Valdarno di Sopra zone, not far from Chianti Classico, about halfway between Siena and Arezzo. He makes just 2000 bottles and sells most of his wine locally. I feel lucky to have gotten about 10% of the loot. Ettore's wines have started to change my mind about Sangiovese, and in a way, about Italian red wine in general.
La Nocetta (a local hunting term) is Ettore's stab at a so-called Super Tuscan (a term I generally dislike). He blends the ubiquitous Sangiovese with the lesser-seen Cabernet Franc to make a somewhat powerful wine, but also a very refined style. Interestingly, the wine as completely raised in steel vats, no oak whatsoever, and bottled after two years of continuous racking in order to avoid "off aromas" and reduction.