La Casaccia (Piedmont, Cella Monte)
DOC Barbera, Freisa, and Grignolino Monfiorenza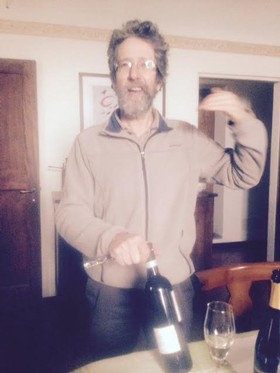 Here is the nature of Italian wine for me. Lots of miss. Very few hits. And then when the hits come, they come in bunches. And one day early in 2017 I met this guy...
Giovanni Rava greeted me with a wide smile, buried under his scraggly beard, and pumped my hand vigorously. His English was pretty good, but he didn't think so, and we eventually lapsed into French. Giovanni and his wife are agronomists, having met in Turin during University, and eventually taking over her family's home and vineyard near Casale Monferrato. Their place, all of it--cellar, vineyards, house-- is simply fantastic.
Twenty years ago Giovanni and his wife Elena Bassignana acquired an 18th centuryvabandoned villa named La Casaccia (almost literally translated as "that shitty little house") and gradually restored the main building and brought back into production the impressive subterranean cellar excavated into the local volcanic rock. The cellar was soon equipped with a line of stainless steel tanks and a bottling unit, and the vineyard converted to organic farming.
And their wines...spot on. That first visit began at 10 am, and at 3:30 we still remained at the dining table, satiated with lunch, and lots of open (and empty) bottles on the table. Returning there this past July, tasting this time with Giovanni and Elena's daughter, Margherita, was much the same; a line up of wonderful wines, from the opening taste of their sparkling wine, through the crisp whites, and on down the range of reds as good as anything I've ever tasted in Piedmont.
With this quarterly club offering I want to get you familiar with La Casaccia's range of reds as a 6-pack, two bottles each of three different bottlings that would be delightful over the coming winter.
Monfiorenza Freisa--One of the minor, but important grapes of the Piedmont. In fact, its a way of spotting the locals in the restaurants and trattorias of the area. Often this can be a lighter, frizzante style meant to slack your thirst on those hot days, but what we have here is a bolder, more structured bottling from the Rava family. Theres a lot packed into this wine - bright red cherries, notes of chocolate, an inticing silkyness, and the signature freshness of Piedmontese wines.
Poggeto Gringolino--Another variety prized by locals, often overshadowed by the more internationally known Barbaresco and Barolo, is Gringolino. A close cousin of Nebbiolo, this is the pride of many winemakers around Monferrato Casalese in Northeastern Piedmont. Like Nebbiolo, you'll find this wine very structured with a delicate perfume. Look forward to this lively red with red-fruit, spice and a hint of marzipan.
Barbera Giuanin--Barbera here is known as the "people wine" (in contrast to Barolo, the "Wine of Kings"), partly due to its ubiquity and abundance in the region. I prefer to think of it as unhampered by the baggage of being put on a pedastal. This is the wine to drink!, not to squirrel away in the cellar for some far off date. The Giuanin is vinified in stainless steel tanks, which keeps it lively, fresh, generous and engaging. The kind of wine that makes friends easily with everything you put on the table.
Don't forget to grab some charcuterie and cheese, boil some water for pasta, and invite over some company! I hope you enjoy them all.