Txakoli Garate (Basque, Laudio)
DO Txakoli Getaraiko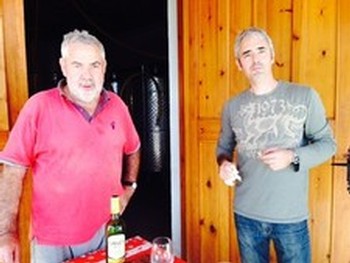 When I first contacted Egoitz Zubiaur last fall to request an appointment he responded quickly. "Yes, please come. My English no good. You want meat or fish for lunch?"
Such is life in Basque country, Spain's foot of the Pyrenees near the Atlantic. This was my first visit to this wonderful region, and won't be the last. It's beautiful, sure. But it's people like Jesu and Egoitz Zubiaur, that make it real.
I was in this part of Spain searching for Txakoli (Chock-oh-lee), the low alcohol, thirst-quenching, slightly spritzy white made famous in the pintxo bars of San Sebastian. But what I found at Txakoli Garate, about 30 minutes from Bilbao is an altogether different story.
When I first explained to Jesu and Egoitz that I had visited a few wineries earlier that day that made the spritzy kind of Txakoli they rolled their eyes. That is modern Txakoli they said, ours is traditional, as if to say, it is the REAL way to make wine here.
There are lots of places to read about the history of Txakoli as well as other Basque beverages and food so I won't bore you today with historical stuff. The Zubiaur's are fourth generation farmers and winemakers but they only began bottling their own wine in 2007, preferring to either sell in bulk, or drink the wine themselves. They cultivate just four hectares in a steep valley about 30 minutes from the sea. It's a simply wonderful place.
So, back to meat and fish. I requested fish and when I arrived Egoitz was cooking fresh cod in a terra cotta pot over the stove, a traditional Basque recipe to accompany the Txakoli. It was simple and perfect and the wine did the trick. I asked on the spot if I could purchase some wine (sometimes you just know right away!) and we agreed to move ahead. Egoitz had never exported before, selling all is wine in Bilbao, (and was nervous about it) but we seemed to hit it off and agreed to go for it.
The Garate Txakoli is a bracing but rich wine that makes me think one part Muscadet, one part Albariño, and one part Sancerre. It's a complete white wine.