Chateau Lapinesse (Bordeaux, Barsac)
AOC Graves Blanc, Rouge and AOC Barsac and Sauternes
Domaine du Claouset (Bordeaux, Entre deux Mers)
AOC Bordeaux Supérieur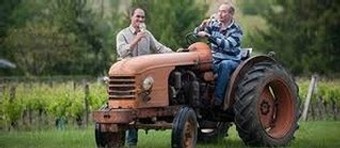 I had a total and thorough geek out moment while visiting with David Siozard in Bordeaux last year. I've spent many a week in Bordeaux over the last year and a half, most of it scratching my head trying to figure out why the region and its wines are still so popular. I'm finding most of it boring, uninteresting, traditional, and tired.
But on this day, David changed my mind.
David and his brother Laurent are twin brothers and the owners of two wineries that you may recognize--the Chateau Lapinesse in Graves and the Domaine du Claouset in Entre-Deux-Mers. I love everything they make and I really don't see the need to continue looking for more Bordeaux wineries. You all might agree. Their wines have been really popular since we began offering them. They give us exactly what we need - succulent white Bordeaux, rich reds, and stunning sweet wines.