Chateau de Rey (Roussillon, Canet)
AOC Cotes-de-Roussillon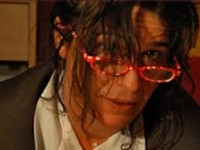 I met Cathy Sisquelle about a year ago under auspicious circumstances. She greeted me cordially on a sunny Saturday in the Roussillon (near Perpignan) and we began by having a quick tour of her small winery. As we stepped through the door, Cathy screamed and was instantly on my shoulders looking for protection. Of course I had no idea what was going on until she pointed ahead of us on the floor.
Snake.
Husband Philippe showed up a few moments later (the scream was loud) and looked at the two of us like we were total fools. "It's dead," he proclaimed, and kicked it with his boot. It slithered away. Not dead.
Eventually Philippe found and disposed of the serpent and we merrily went about our business, neither of us liking snakes very much, but probably more intimately introduced to any winemaker I've met in 25 years of doing this.
I once asked Cathy to describe her project, Chateau de Rey, and this is what she wrote me, a sort of recipe for her work (translated from French):
"Take one exceptional spot. Add the story of a family mixed with a pinch of secular passion. Flavor with a touch of winemaking savoir-faire, jealously hidden and kept cool in the shade of majestic pines. Sprinkle with a few gîtes, typical of the easy-going, laid-back Catalan way of life, and voila! that's Chateau de Rey!"
Cathy was a gymnastics teacher in Toulouse when she met Philippe, a Catalan and a pharmacist. In 1997, with an opportunity to purchase the property and vineyard of Philippe's ancestors they packed up and moved to Canet-en-Roussillon, not far from Perpignan, and a stone's throw from the sea. They went all in: land, vines, wines, guesthouses, and each other. She learned winemaking on the fly. It's a nice story.
Cathy's wines were described to me by a colleague of hers that said something like this:
"Her enthusiasm is evident in every glass, in every bottle, in the meticulous approach she brings to each and every wine. She is like a ray of Catalan sunshine, or the promising "pop" of a cork drawn from a bottle of Château de Rey."
Galets Roules (literally Rolling Rocks) blends Cathy's oldest Carignan vines, about 100 years-old, with some "younger" (40 years) Syrah. The wine is concentrated, powerful, and complex. Harvested from a short vintage, with very low yields, it is dark and opaque with wonderful succulent aromas of blackberries, truffle, and chocolate. A whiff of black pepper from the Syrah makes it oh-so-mouthwatering.
S'is Plau is a semi-sparkling, dry, drunk ice-cold Macabeo. We slurped this wine down with some local tapas back in February. Now you can too as summer continues on. I know we will.
"C", an off-dry, fragrant wine, comes from a gem of an old vineyard, a small plot of Muscat d'Alexandria planted in 1929 by Philippe's great grandfather. These are gnarly old plants, untrellised, and yield tiny, concentrated berries that are loaded with flavor.