Domaine du Puits de Compostelle (Burgundy, Celles-sur-Nievre)
AOC Cotes-de-la-Charité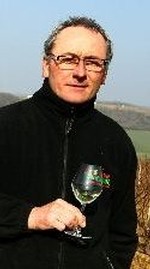 Emmanuel Rouquette is my kind of winemaker--down-to-earth, approachable, a hearty laugh, but also very business-like. He says to me, "You know Dan, I think this could be a hard sell to your customers. Who even knows about this place? How will they recognize the name?"
We're talking about one of the prettiest corners of France, so obscure that not even our venerable TTB (the alcohol labeling bureau) knew about. In fact, the only person we know who is familiar with the region is a friend of ours with a PhD in Medieval French architecture.
Does that mean we're the first ever US importer to deliver a bottle from the Cotes-de-la-Charité? Well, yes. It seems so.
And that's pretty cool.
Well, I'm going to go out on a limb and guess that you really don't care. This wine could be from the Charité or the Charolais or the Chick-fil-A. If it sings, and it tastes like really good Pinot Noir, then count you in, right?
This is where the Loire meets Burgundy. The Cotes-de-la-Charité is one of tinniest appellations in France and only received its appellation status in 2009. Previously all the wines were simply Vin de Pays. But what I discovered in Emmanuel's cellar were finely tuned, multi-dimensional examples of fine wine--Pinot Gris, Sauvignon Blanc, Gamay.
Emmanuel's vineyard lies along the path of the Santiago di Compostela, in France called Le Puits de la Compostelle. The historical value here is enormous, especially with the Loire trading route in its backyard, one could imagine wine being made here for many, many centuries.
But today we find only a handful of winemakers, six to be exact, and just a few hundred acres of vines. Emmanuel is the sort of spiritual leader of this small group. His farming is immaculate, his winemaking is refined and correct, and his finished wines are thoroughly scrumptious. We'll buy much more from him over the years I'm sure.