Domaine de Panisse (Rhone Valley, Courthezon)
AOC Chateauneuf-du-Pape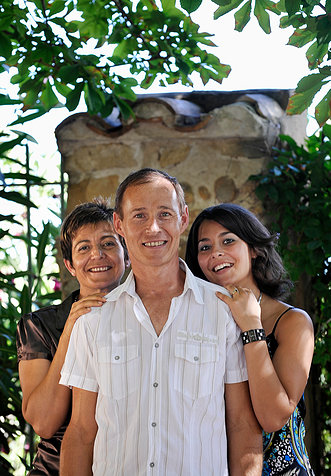 This past winter I had been visiting with vigneronne Veronique Lombardo in Lirac and casually asked her if she knew anyone making Chateauneuf-du-Pape that was actually good AND didn't cost more than $100. She stood up immediately and shouted, "Christine! I will go call her."
Before we finished lunch there was an email inviting me to taste wine the following morning. So I massaged my schedule and headed for the pretty Provençal village of Courthezon. There is where I met Christine and Jean-Pierre Oliver and heard a pretty remarkable story about their winery.
In 1992 the French Government took over Domaine de Panisse with eminent domain and made plans to build a superhighway on it that would connect Avignon and Orange. But later that year the worst flooding in Rhone history found most of Chateauneuf under water and they rethought the plan. A year later the Olivers expatriated the vineyards and its 16th century Mas from the government and set about the work of restoring and renovating the whole dang thing.
Even though I spotted some construction materials here and there, twenty-something years later, I think they've finally finished!
Panisse is a family affair, Jean-Pierre takes care of the vines, Christine makes the wine, and daughter Fanny helps in the tasting room and with all the commercial parts. This is a really charming family and I immediately liked them. I think you will too.
'Confidence Vigneronne' (loosely translated: Winemaker's Secret), comes from 70-year-old vines of Grenache, Syrah, and Mourvedre. I found the wine to be rich, concentrated, fatty, and succulent. The Mourvedre gives a tinge of eucalyptus and the Syrah a crack of the pepper mill. But it's the Grenache, planted on sandstone, that winds this baby up and gives it that full-throttled Chateauneuf-i-ness that I really like.
Confidence Vigneronne is the only wine available from the difficult, but rewarding 2013 vintage. Even though Christine normally makes a high-end bottling, she dedicated only her best fruit to this wine. In fairness, it's a reserve-level cuvée for all intents and purposes. Additionally, there was NO wine in 2014, a very difficult year in which the Olivier's sold most of their fruit and decided to finish the winery renovations. Wow.
Okay, so I don't drink Chateauneuf-du-Pape on Tuesday with cheeseburgers (I probably should I guess) but this is a really amazing bottle to open just about any time. Its easy to imagine pulling a bottle of this out during the holidays to celebrate with friends. And at essentially half the price of most STARTING Chateauneuf prices, it gets even tastier!