Maison Géraldine Louise (Burgundy, Rosey)
AOC Givry, Montagny, St. Romain, & Mercurey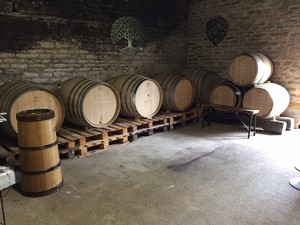 There are two regions in Europe that are nearly impossible to break into as a small importer--Barolo and Burgundy. Winemakers in both regions have decades old relationships with their resellers, and it is not often that something new pops up. Starting a new winery is hard. But starting a new winery in one of these places, for simple economic reasons, is impossible.
So you might imagine my delight that over the past year, we found a seat at the table in both places. Alas today, let's talk about Burgundy, shall we?
Burgundy is big. It includes Beaujolais, Chablis, Vezelay, Franche-Comté, and more. But, the beating heart of the wine region follows a 75km artery along the Saône from Dijon to Chalon, and includes heralded villages like Gevrey-Chambertin, Meursault, Beaune, Chambolle-Musigny, and Pommard. These are wine lovers paradise names and the Chardonnay and Pinot Noir from the Côte d'Or (the golden slope) that forms the backdrop for these wine villages, has launched a thousand superlatives, and emptied a million wallets.
And for good reason. At their best, the reds and whites of the Côte d'Or can be ethereal, complex, and oh-so fine. Equally frustrating however is that the region is filled with winemakers that don't care enough, blessed with expensive and cherished land, yet unwilling to make great wine and simply do the minimum required to get a wine to market, and hitch their ride to a pricing machine that sees bottles easily north of a $100.
There are more than 3400 wineries in Burgundy. The top one hundred get all the accolades, another hundred work with great quality under the radar, and the rest just go through the motions.
But today, let me introduce you to #3401--the smiling, tiny, affable Géraldine Lochet. Following three visits with her since last December, the final this past July during France's hottest day ever on record (113), we are in business in the Côte d'Or. And this introductory 3-pack is going to make a lot of you very happy campers.
Look at the photo. That is Géraldine's entire annual production--8 barrels, each a different wine! That just blows me away. After years as the cellar master for the well-regarded Chassagne Montrachet house of Philippe Colin, she decided to set out on her own, beginning with small grape contracts in Mercurey, Givry, St. Romain, and Montagny. Hers are among the most delightful (and affordable) bottle of pedigreed white and red Burgundies I've had in many years.