Domaine de la Camarette (Pernes-les-Fontaines, Ventoux)
AOP Ventoux red, white, and rosé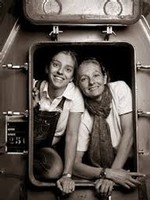 This past February 24th I phoned home at about midnight, Euro time, to inform my wife that I had just eaten the best meal I'd ever had in 25 years of visiting France.
I was roundly and transatlantically laughed at for saying such a thing. She even put down the phone to yell to the kids, "Dad says he just had his best French meal ever!" And from the background, "yeah right." Then she wondered aloud to me if I was drunk or sleep-deprived, or both.
Then, on February 25th, I wrote to you all the exact same thing. I was neither drunk, nor sleep-deprived, and I offered you a wine from that winery/restaurant in the Ventoux that was one of the most popular bottles I've offered you all year. Evidently YOU believed me but not everyone was convinced. So...
There was only one thing left to do. Let her see for herself.
So this past May, we left northern Burgundy at 2 in the afternoon and made a 5-hour out of our way beeline for Domaine la Camarette and arrived in time for a quick walk and to sit down for dinner. Three hours later, and a bottle of the about to be described wine, Elizabeth looks at me and says...
"You were right."
Hugues refers to himself as a "recovering 3-star chef", having worked for some big names in Brittany before settling at Camarette, renovating an old barn into a commercial kitchen, and building a 25-seat restaurant at the foot of Mt. Ventoux. A retired local farmer tends the garden and Hugues starts fresh each day with a blank menu chalkboard.
There's no better way to eat. (for a total of 32 Euros per person, by the way)
Look, short of begging Hugues to open a restaurant in the US, the best I can do is tell the story about what one can experience here, and then do you the favor of importing the winery's best wine to enjoy in your own home. So, that's what I'm doing.
If the Camarette Louis was marked "Chateauneuf-du-Pape" on the label (just 20 minutes away) it would also say $50 on the price tag. But, since it is marked "Ventoux" instead, it says just $24. And because we do what we do here, your price is:
Louis is the wine that sisters Alexandra and Nancy Gontier are most proud of, and want all their restaurant customers to enjoy with Hugues remarkable food. I couldn't agree more. It is named after Nancy and Hugues' first born in 2007 and made only exceptional years--07, 09, and now 2012.
The domaine's best and oldest vines are dedicated to this cuvée, a seamless blend of Syrah and Grenache that was aged for one year in barrels, and another two in the cellar. There were only 3000 bottles produced. I'm happy to have just scored 180 of them.