April 2023 Quarterly Whites 6-pack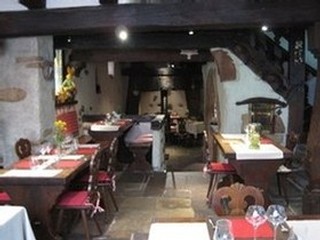 The young and affable Thomas Baur pointed left and right, reciting a who's who of great domaine names--Jossmeyer here, Zind Humbrecht there, Barmes-Buecher next--and with a smile says, "And we're right here in the middle of them!" We were standing together in one of Alsace's great plateau vineyards, a virtual garden of organic and biodynamic viticulture.
And here, is where we got dealt into the Alsace game.
But it was at the "Caveau de Vigneron", over a salt-crusted beef dish and some creamy potatoes, that I began tasting Thomas' wines. He knew what he was doing by having me do this. Outside of tasting directly in the vineyard, there's no better way to enjoy wines like these--with a big plate of good stick-to-your-ribs food.
This is why I really love Alsatian wines. They have big, explosive aromatics; they whet the appettite; and have great acidity, perfect for washing down rich, full-flavored food.
Our 90 minute lunch turned into a 5 hour visit including a balade des vignes (vineyard walk) and a grand degustation (full and complete tasting) of about 30 wines. And that's how to pass an afternoon in January in Alsace.
There's really no way to pick and choose from an Alsatian winery's price list. You just smile, take a deep inhale, and buy them all. When one is good, I find that they're ALL good. And that's what made me take about six seconds to decide on who to use first for this quarter's white wines. With your mixed 6-pack you'll recieve 2 bottles each of these three wines:
Riesling Herrenweg 2021
Pinot Gris Herrenweg 2021
Gewurztraminer Herrenweg 2019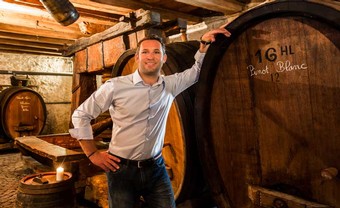 Despite their tall bottles, which invariably make one think "sweet", these are all dry wines, loaded with high-toned aromatics, and also incredible concentration. I hope you have as much time tasting through them, as I did picking them out!
And now, I sermonize a little....
I'm going to make a bold prediction — this just might be your favorite 6-pack of the year. Simply put, Thomas Baur's wines are some of the best I import. If you're going to show off wine to your buddies this spring or summer, make sure one of these is included.
Supporting the cadre of small, family-run wineries I buy from is always rewarding. But I especially like what we're doing for organic, future-forward winemakers like this guy here. Thomas is a good 'ol Alsacienne country boy, now a 9th generation winemaker at his family winery in Turckheim, yet at the same time, he's a thoroughly modern young 20-something. The cross section in Thomas of past, present, and future is on full display in that photo, huh?
During my first trip to meet him, almost 5 years ago now, we tasted and drank all his wines over a hearty lunch at the little wistub (wine restaurant) next to his winery. There were no weaknesses in the lineup. Zero. I ordered on the spot, and have continued to do so with each successive vintage.
Here's the irony--I typically dislike all these varieties (except Riesling) everywhere else in the world I've ever tried them, likening them to drinking dish soap or suntan lotion. But, when their grown on schiste (slate), and farmed to low yields they can be aromatically gorgeous and delicately luscious — like these!
Locals know how good they are, (I observe them loading up on cases full everytime I'm there), and now heer'es your chance to feel like you're doing the same.
Enjoy!