Domaine Francois Baur (Alsace, Turckheim)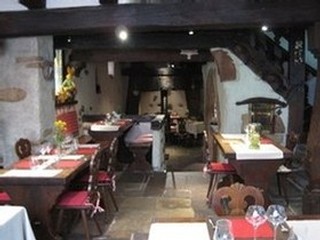 The young and affable Thomas Baur pointed left and right, reciting a who's who of great domaine names--Jossmeyer here, Zind Humbrecht there, Barmes-Buecher next--and with a smile says, "And we're right here in the middle of them!" We were standing together in one of Alsace's great plateau vineyards, a virtual garden of organic and biodynamic viticulture.
And here, is where we got dealt into the Alsace game.
But it was at the "Caveau de Vigneron", over a salt-crusted beef dish and some creamy potatoes, that I began tasting Thomas' wines. He knew what he was doing by having me do this. Outside of tasting directly in the vineyard, there's no better way to enjoy wines like these--with a big plate of good stick-to-your-ribs food.
This is why I really love Alsatian wines. They have big, explosive aromatics; they whet the appettite; and have great acidity, perfect for washing down rich, full-flavored food.
Our 90 minute lunch turned into a 5 hour visit including a balade des vignes (vineyard walk) and a grand degustation (full and complete tasting) of about 30 wines. And that's how to pass an afternoon in January in Alsace.
There's really no way to pick and choose from an Alsatian winery's price list. You just smile, take a deep inhale, and buy them all. When one is good, I find that they're ALL good.