Bainbridge & Cathcart (Loire Valley, Chavagnes-les-Eaux)
IGP Vin de France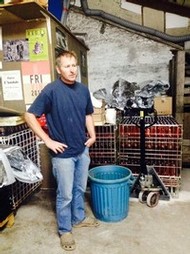 Toby Bainbridge, a Brit, and his American bride, Julie, live in a village of about 120 in the charming Angevin. They are warmth personified.
Toby and Julie make their wine in a small machine shed a few kilometers from their house. It is everything a "mom 'n pop" winery should be--simple, unadorned, and natural.
This is the Loire Valley, a scene of castles, churches and natural parks situated along France's longest natural river. Toby makes just three wines from vineyards totaling about 4 hectares. There are only about 6500 bottles to go around and this year we'll be good for about 15% of it. That's how much we love his stuff. These are delicious, unadulterated wines.
When I visited last February, Toby was trying to finish the fermentation on his "Rouge aux Leves" by wrapping the tanks in blankets--actual wool blankets. "This one was my grandmother's favorite," he told me as he pointed one out. "We're pretty primitive here..."
You don't say.
Some winemakers would view a winery operation like this and snicker. But why? Why do we need all that fancy stuff and hundreds of thousands of dollars worth of equipment, when it turns out that on old wool blanket does the trick?
Toby and Julie's wines are clean, vibrant, and scrumptious. He bottles them in clear glass, with a simple crown cap--no cork, and they are built 'ready to drink.'
Let's start with a dry Chenin Blanc called Les Jongleurs (The Jugglers) from a barely 2-acre parcel that he farms organically and by hand. His yield is about 2400 bottles and we buy about 10% of that.
When we met with Toby one September, he disgorged a bottle of this sparkling rosé for us on the fly. It had been resting comfortably in his winery since the prior October, bottled immediately after harvest. We stood right there and drank the whole dang thing, after which I asked to buy every drop he had. He snickered a little but then kinda, sorta agreed. He has an importer in Australia, a guy in Paris, us, and some guy in Denmark named Redzepi that the rest of us have to share with. To wit:

Bainbridge & Cathcarts's first export market was Denmark. They sold the guy some wine and dutifully headed to Copenhagen to "work the market" and try to make some placements at restaurants. Their first visit, this was five years ago, was at the famous NOMA, Rene Redzepi's gastronomic mecca feautring 20 course meals and generally considered among the top 5 restaurants in the world. Evidently the sommelier tasted the wine, loved it, and proceeded to buy it all. Done deal. Sales day complete. Since then NOMA has been a big regular supporter.

This pink, finely bubbled, naturally-bottled Methode Ancestrale Grolleau Noir (a local grape) is heady, gorgeous, and downright wonderful. La Danseuse translates to "The Dancer" in French, but the labeling is a little more tawdry than that. La Danseuse can also refer to the barrel of wine that a vigneron would put aside for his mistress (in days past of course).
Rouge aux Levres ("Lipstick"), the only red wine from Bainbridge and Cathcart, is made from a Loire ugly duckling grape variety--Grolleau. Most Grolleau is heavily cropped and planted on flatlands to make juicy, sweet Anjou rosé. But Toby's got a treasure on his hands--a wonderful old-vine plot that he harvests for low yields, coaxing forth a fruit salad of aromatic fireworks.