Domaine Etienne Simonis (Alsace, Ammerschwir)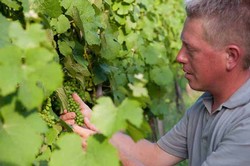 Coming to love, enjoy, and appreciate Riesling is a very necessary step in the evolution of every wine lover. It's too bad there's such a negative connotation about Riesling. The mere mention of the varietal makes many people screw up their face like it has been suggested they drink a cool glass of diesel fuel.
On my first visit to Chez Simonis, I arrived in Ammerschwihr exactly 28 hours late. I had spent the previous night sleeping in the Philadelphia airport, then upon arriving in Frankfurt sat in one of those news-hour traffic jams for about 5 hours as I crawled across the Rhine and into France. I walked through the door at Chez Simonis at 5:45 on a Saturday evening and fully expected Katia and Etienne to usher me right back out.
I'm sure glad they didn't.
A degustation at an Alsacienne winery is no small affair, usually consisting of several ranges of wines--young and fruity, vineyard designated, Grand Cru, Reserves, bubblies, red, sweets, and the beat goes on. So when I finally departed, at 9:30 and 25 wines later, I was relieved that these fine people had been so patient and welcoming of me.
Etienne Simonis is a respite from bad Riesling, offering wine after wine that is brimming with life -- exuberant, fresh, and scintillating -- a counterpoint to the idea that all Riesling is a) sweet, b) cheap, c) headache-inducing, and/or d) wimpy.